Template:Airport frame Template:Airport title Template:Airport image Template:Airport infobox Template:Runway title Template:Runway Template:Runway Template:Runway Template:Airport end frame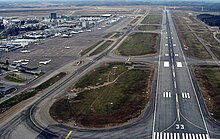 Helsinki-Vantaa Airport (IATA: HEL, ICAO: EFHK) in Vantaa, Finland, is the main airport of the Helsinki metropolitan region and the whole of Finland. It is located about 15 kilometers from the Helsinki city centre. Originally built for the 1952 Summer Olympics in Helsinki, the airport served in 2005 11 million [1] passengers and is one of the major airports in the Nordic countries.
The International and Domestic terminals are 250 m apart and are linked by an internal pedestrian connection.
Helsinki-Vantaa is the international and domestic hub for Finnair, the Finnish flag carrier. It is also the hub for Blue1, the Finnish regional feeder for SAS.
The Aviapolis area for international businesses is scheduled to be built in the Helsinki-Vantaa airport area. A train link, Kehärata, to Helsinki center is planned.
Helsinki-Vantaa was chosen the best airport in the world in the IATA 1999 survey on the topic. In 2006 global airport customer satisfaction survey AETRA ranked Helsinki-Vantaa one of the best airports worldwide and according to Association of European Airlines 2005 delay rates, Helsinki-Vantaa was the most punctual airport in Europe.
The managing body of the airport is Finavia.
Airlines
Scheduled airlines
Charter airlines
Cargo airlines
External links