Marlboro Township, New Jersey
Marlboro Township is a Township in Monmouth County, New Jersey, United States. As of the United States 2000 Census, the township had a population of 36,398.
CNN and Money magazine have selected Marlboro as one of the top 10 safest places to live [1], as a contender for one of the best places to live in America [2], and as one of the "Hottest Places to Live in America" based on statistics of towns with the highest median household incomes in the nation and above average population growth.
Geography
Marlboro Township is located at latitude 40°18'55" North, longitude 74°14'48" West.
According to the United States Census Bureau, the township has a total area of 79.2 km² (30.6 mi²), all land.
Morganville (2000 Census population of 11,255) is a census-designated place and unincorporated area located within Marlboro Township.
Demographics
Marlboro Township population growth
Year
Population (rounded to
nearest hundred)
1848
1,500
1880
2,200
1930
2,000
1940
5,000
1950
6,400
1960
8,000
1970
12,300
1980
17,600
1990
28,000
2000
36,400


As of the census² of 2000, there were 36,398 people, 11,478 households, and 10,169 families residing in the township.
The population density was 459.4/km² (1,189.7/mi²). There were 11,896 housing units at an average density of 150.1/km² (388.8/mi²).
The racial makeup of the township was 83.76% White, 2.07% African American, 0.05% Native American, 12.67% Asian, 0.01% Pacific Islander, 0.47% from other races, and 0.97% from two or more races. Hispanic or Latino of any race were 2.89% of the population.
There were 11,478 households out of which 50.4% had children under the age of 18 living with them, 81.3% were married couples living together, 5.6% had a female householder with no husband present, and 11.4% were non-families.
9.7% of all households were made up of individuals and 4.7% had someone living alone who was 65 years of age or older. The average household size was 3.15 and the average family size was 3.38.
In the township the population was spread out with 30.2% under the age of 18, 5.6% from 18 to 24, 28.8% from 25 to 44, 26.6% from 45 to 64, and 8.8% who were 65 years of age or older. The median age was 38 years. For every 100 females there were 98.4 males. For every 100 females age 18 and over, there were 94.3 males.
The median income for a household in the township was $101,322, and the median income for a family was $107,894. Males had a median income of $76,776 versus $41,298 for females. The per capita income for the township was $38,635. About 2.4% of families and 3.5% of the population were below the poverty line, including 3.4% of those under age 18 and 2.7% of those age 65 or over.
History
The Lenni Lenape Native Americans were the first inhabitants of this area.
The history of the township reaches back to 1685, when the land was first settled by farmers from Scotland, England and The Netherlands. The Township of Marlboro was established on February 17, 1848; before that it had been part of Freehold Township. The town is named for the prevalence of marl, which was first discovered in the area in 1768. (The town's name was originally Marlborough, and then at some point was shortened.) Marlboro's first industry was the export of the material, used primarily as fertilizer, throughout the state and by boat to New York and other parts of the country.
Marlboro was the scene of a number of skirmishes during the American Revolutionary War, in particular following the Battle of Monmouth in 1778. During the war, the Pleasant Valley section was often raided by the British for food supplies and livestock.
Up through World War II Marlboro was rural and composed mostly of dairy, potato, tomato and other farms laced with small hamlets with modest inns or taverns; these included Morganville, Robertsville, Wickatunk, Bradevelt, Topanemus, and Pleasant Valley, with the center being Marlboro Village. The name Morganville still exists as a section of Marlboro with its own ZIP code, as does Wickatunk to a lesser extent; Robertsville, Topanemus and Pleasant Valley are names of significant roads within the township; Bradevelt is used less frequently, but, like the others, appears from time to time on maps and road signs.
Following the war the state began to build and improve the roads infrastructure, and the township gained population. Even until the 1970s, Marlboro remained largely rural in character, but then it became a growing exurban destination for people working in New York and in nearby large suburban corporations.
Marlboro lost eight of its residents as the result of the September 11, 2001 terrorist attacks; a memorial has been built.
Marlboro no longer has any real town center and can be considered an example of suburban sprawl. The main commercial thoroughfares are U.S. Route 9 and Route 79. Route 18 provides a fast conduit to the Jersey Shore.
Government
Local government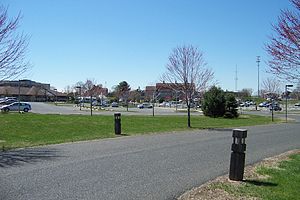 Marlboro Township is governed under the Faulkner Act (Mayor-Council) system of municipal government.
The Marlboro Township Council is made up of five elected officials. Township residents elect a new Councilperson every four years on the first Tuesday in November. At its reorganization meeting, the Council elects a President and Vice-President, each of whom serve a term of one year or until the election and qualification of a successor.
The Township Council is Marlboro's legislative body. It sets policies, approves budgets, determines municipal tax rates, and passes resolutions and ordinances to govern the town. The Council also appoints citizen volunteers to certain advisory boards and the Zoning Board of Adjustment. The Council may investigate the conduct of any department, officer or agency of the municipal government. They have full power of subpoena as permitted by Statute.
The current Mayor of Marlboro Township is Dr. Robert Kleinberg. The current Marlboro Township Council consists of Jeff Cantor, Barry D. Denkensohn, Council Vice-President Patricia Morelli, Council President Joseph Pernice and James Mione[3].
Local political issues
Political issues in Marlboro include land development and loss of open space, growth of population leading to the need for additional public schools and higher property taxes, and recurring instances of political corruption.
This corruption reached its peak in 2005 when former three-term mayor Matthew Scannapieco was arrested by the FBI and subsequently pleaded guilty to taking $245,000 in bribes from a land developer in exchange for favorable rulings. [4] The same investigation has also resulted in charges against several other township officials as well as a Monmouth County Freeholder.
In 2000, Marlboro became one of the first areas in the U.S. to ban cell phone use while driving.
Federal, state and county representation
Most of Marlboro Township is in the Twelfth Congressional District and is part of New Jersey's 12th Legislative District. A small sliver of the Township is in the Sixth Congressional District.
For the 118th United States Congress, New Jersey's Sixth Congressional District is represented by Frank Pallone (D, Long Branch).[5][6] For the 118th United States Congress, New Jersey's Twelfth Congressional District is represented by Bonnie Watson Coleman (D, Ewing Township).[7][8] New Jersey is represented in the United States Senate by Democrats Cory Booker (Newark, term ends 2027)[9] and Bob Menendez (Englewood Cliffs, term ends 2025).[10][11]
For the 2022–2023 session, the 12th Legislative District of the New Jersey Legislature is represented in the State Senate by Samuel D. Thompson (D, Old Bridge Township) and in the General Assembly by Robert D. Clifton (R, Matawan) and Alex Sauickie (R, Jackson Township).[12] Template:NJ Governor
Template:NJ Monmouth County Freeholders
Education
The Marlboro Public Schools serve students in pre-Kindergarten through eighth grade. The district is comprised of eight school facilities: one pre-school, five elementary schools and two middle schools. The schools, with 2003-04 enrollment data from the National Center for Education Statistics, are as follows.
There are five elementary schools, which serve grades 1-5: Frank Defino Central School with 779 students (opened 1957), Robertsville Elementary School with 627 students (opened 1968), Marlboro Elementary School with 661 students (opened 1971), Asher Holmes Elementary School with 622 students (opened 1973), and Frank J. Dugan Elementary School with 645 students (opened 1987).
Before the construction of Frank Defino Central school, students were taught in a one-room schoolhouse, Robertsville School, which the present-day Robertsville Elementary School is named after. The original Robertsville was built in 1832, and still stands, down the road from its modern counterpart.
Further, there is an Early Learning Center with 524 students (opened 2002) for kindergarten and preschool special education.
Marlboro Township has two middle schools: Marlboro Memorial Middle School with 877 students, opened in 2003, and is home of the Monarch Lions, with the main school color of maroon, but also with gold and silver added in some contexts.
Additionally, the town is also home to Marlboro Middle School with 1,206 students, opened in 1976, and is home of the Hawks, with school colors of Red, White & Blue.
Marlboro Township has a public high school, Marlboro High School (opened in 1968), home of the Mustangs, which is part of the Freehold Regional High School District as the Business Learning Center. Some students in Marlboro attend Colts Neck High School, also part of the Freehold Regional High School District. Many Marlboro students attend the various Learning Centers and Academies available throughout the district.
The High Point Schools are a group of private special education elementary and adolescent schools located on a 10 acre campus in the Morganville section of the Township. The schools provide educational and therapeutic services for students ages 5 - 21 who have emotional, behavioral and learning difficulties.
Emergency Services
Marlboro Twp. has four fire departments and two first aid squads:
Marlboro Fire Co. No. 1 (28-1)
Robertsville Fire Co. (28-2)
Morganville (28-3)
Morganville Independent (28-4)
Marlboro First Aid & Rescue Squad (28-21)
Morganville First Aid & Rescue Squad (28-23)
Additionally, there is a full-time Marlboro Township Police Department comprised of over 76 full-time sworn full police officers.
Recreation
Marlboro has a strong Township-sponsored recreation program, with activities for all ages. This includes very popular soccer and basketball leagues for boys and girls; in addition Little League baseball / softball and Pop Warner football / cheerleading have a large presence as well.
In the summer the Township holds free outdoor concerts by notable popular music artists. In recent years performers have included Jay and the Americans, Bill Haley's Comets, Lesley Gore, Little Anthony & The Imperials, Johnny Maestro & The Brooklyn Bridge, The Platters, The Trammps, and The Tokens.
For walkers and bicyclists, two segments of the Henry Hudson Trail have substantial stretches within the township.
Notable residents
Some noted current and former residents:
References
External links