This page is currently inactive and is retained for historical reference.
Either the page is no longer relevant or consensus on its purpose has become unclear. To revive discussion, seek broader input via a forum such as the village pump.

It was last substantively updated February 2009.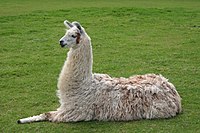 The Llama is an online newspaper dedicated to covering Wikipedia's follies. Contributors are encouraged to submit funny stories.