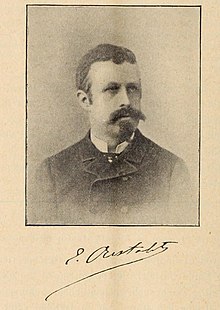 Jean-Frédéric Émile Oustalet (24 August 1844 – 23 October 1905) was a French zoologist who contributed greatly to ornithology.[1]
Oustalet was born at Montbéliard, in the department of Doubs. He studied at the Ecole des Hautes-Etudes and his first scientific work was on the respiratory organs of dragonfly larvae. He was employed at the Muséum National d'Histoire Naturelle, where he succeeded Jules Verreaux as assistant-naturalist in 1875. In 1900 he succeeded Alphonse Milne-Edwards as Professor of Mammalogy.[1]
Oustalet became especially interested in birds after the museum received new specimens from Indo-China and Africa. He took a special interest in the birds of China and co-authored Les Oiseaux de la Chine (1877) with Armand David, and also wrote Les Oiseaux du Cambodge (1899).[1] He edescribed a specimen from Branco as a separate species Passer brancoensis in 1883,[2][3] which was recognised as the subspecies Passer iagoensis brancoensis by W. R. P. Bourne, who claimed to observe differences between Iago sparrows from different islands.[4]
Oustalet attended the International Ornithological Congress at Vienna (1884), Budapest (1891), London (1905) and presided in Paris (1900).[5]
The duck species Anas oustaleti was named after him. A species of Malagasy chameleon, Furcifer oustaleti, was named in his honor by François Mocquard in 1894.[6]
Oustalet died at St. Cast (Cotes-du-Nord) after several weeks of illness. The funeral was held in Montbeliard (Doubs).
Selected writings
[
edit
]
1874 : Recherches sur les insectes fossiles des terrains tertiaires de la France, (Research of Tertiary insect fossils from France).
1877 : with Armand David, Les Oiseaux de la Chine, (The Birds of China, two volumes).
1878 : with Alphonse Milne-Edwards, Études sur les Mammifères et les Oiseaux des Îles Comores, (Studies on Mammals and Birds of the Comoro Islands).
1880-1881 : Monographie des oiseaux de la famille des mégapodiidés, (Monograph of birds of the family Megapodiidae, two parts).
1889 : Oiseaux dans le compte rendu de la mission scientifique du Cap Horn. 1882-1883, (Birds in the report of the scientific mission of Cape Horn. 1882–1883).
1893 : La Protection des oiseaux, (The Protection of Birds) — reprinted in 1895 & re-edited in 1900.
1895 : Les Mammifères et les Oiseaux des îles Mariannes, (Mammals and Birds of the Mariana Islands, two parts).
See also
[
edit
]
References
[
edit
]
Sources
[
edit
]