2023 Azerbaijani offensive in Nagorno-Karabakh
Between 19 and 20 September 2023, Azerbaijan launched a large-scale military offensive against the self-declared breakaway state of Artsakh, a move seen as a violation of the 2020 ceasefire agreement.[15][16] The offensive took place in the disputed region of Nagorno-Karabakh, which is internationally recognized as part of Azerbaijan, but populated by Armenians.[17][18] The attacks occurred in the midst of an escalating crisis caused by Azerbaijan blockading Artsakh, which has resulted in significant scarcities of essential supplies such as food, medicine, and other goods in the affected region.[19]
One day after the offensive started, on 20 September, a ceasefire agreement was reached at the mediation of the Russian peacekeeping command in Nagorno-Karabakh.[20] Azerbaijan held a meeting with representatives of the Nagorno-Karabakh Armenians on 21 September in Yevlakh, to be followed by another meeting in October.[21][22] Ceasefire violations by Azerbaijan were nonetheless reported by both Artsakhi residents and officials.[23][24]
Human rights organizations and experts in genocide prevention issued multiple alertsbeing subjected to ethnic cleansing and genocide,[25][26] as well as war crimes and crimes against humanity.[27][28] Luis Moreno Ocampo, the inaugural prosecutor of the International Criminal Court, warned that another Armenian genocide could take place, and opined that the inaction of the international community encouraged Azerbaijan to act with impunity.[27]
, stating that the region's Armenian population was at risk or actively
Background
The Nagorno-Karabakh conflict is an ethnic and territorial conflict between Armenia and Azerbaijan over the region of Nagorno-Karabakh, inhabited mostly by ethnic Armenians until the 2023 offensive.[29] The Nagorno-Karabakh region was once entirely claimed by, and partially de facto controlled by the breakaway Republic of Artsakh, but is recognized internationally as part of Azerbaijan. Azerbaijan exercised de facto control of one-third of the Nagorno-Karabakh region as well as the seven surrounding districts.
The conflict escalated in 1988, when the Karabakh Armenians demanded the transfer of the region from Soviet Azerbaijan to Soviet Armenia, triggering the First Nagorno-Karabakh War that ended in 1994 with Azerbaijan losing control of about 13.6% of its territory,[30] including Nagorno-Karabakh, to Karabakh Armenians and the army of the Republic of Armenia. In 1993, the United Nations Security Council adopted four resolutions that supported the territorial integrity of Azerbaijan and demanded the immediate withdrawal of the occupying Armenian forces from Azerbaijan, which was reaffirmed by the 2008 United Nations General Assembly Resolution 62/243.[31]
In late 2020, the large-scale Second Nagorno-Karabakh War resulted in thousands of casualties and a significant Azerbaijani victory. An armistice was established by a tripartite ceasefire agreement on 10 November, resulting in Armenia and Artsakh ceding the territories surrounding Nagorno-Karabakh as well as one-third of Nagorno-Karabakh itself to Azerbaijian[32] Ceasefire violations in Nagorno-Karabakh and on the Armenian–Azerbaijani border occurred following the 2020 war, leading to several casualties.
Subsequent to the 2020 war, Azerbaijan rescinded its offer of granting special status and autonomy to its ethnic Armenian residents and insisted on their "integration" into Azerbaijan.[33][34] Some international mediators and human rights organizations have advocated for self-determination for the local Armenian population[35][36] and do not believe that Artsakh Armenians can live safely under Azerbaijani President Ilham Aliyev,[37][38] whose leadership has been described as dynastic and authoritarian.[39][40]
Prelude
In December 2022, Azerbaijan began blockading the Republic of Artsakh from the outside world, in violation of the 2020 ceasefire agreement and international legal rulings.[41] The Azerbaijiani government seized territory around the Lachin corridor both within Artsakh and Armenia, blocked alternative bypass routes, and installed a military checkpoint.[42] Azerbaijan also sabotaged critical civilian infrastructure of Artsakh, including gas, electricity, and internet access.[43][44]
The blockade created a humanitarian crisis for the population of Artsakh; imports of essential goods were blocked, as well as humanitarian convoys of the Red Cross and the Russian peacekeepers, trapping the 120,000 residents of the region.[45][46] Shortages of essential goods – including electricity, fuel, and water reserves – were widespread and emergency reserves were rationed, alongside massive unemployment, and closures of schools and public transportation.[47][48]
All the above efforts have only one goal: ensure irreversible normalization of relations between Baku and Yerevan for the benefit of all populations on the ground. It is now time for courageous compromise solutions, also in light of today's escalation.
—Spokesperson of Charles Michel, President of the European Council, on 1 September 2023.[49]
Azerbaijan claimed its actions were aimed at preventing the transportation of weapons and natural resources.[50][51] It also said its goal was for Artsakh to "integrate" into Azerbaijan, despite opposition from the population, and threatened military action if the Artsakh government did not disband.[52][53] The spokesperson for Charles Michel, President of the European Council, stated that EU's primary goal was to facilitate the "irreversible normalization" of Armenian-Azerbaijani relations and called for "courageous compromise solutions".[49]
Numerous countries, international organizations, and human rights observers condemned Azerbaijan's blockade and considered it to be a form of hybrid warfare,[54][55] ethnic cleansing,[56] and genocide.[57][58] Multiple international observers also considered the blockade and the inaction of the Russian peacekeepers to be violations of the tripartite 2020 Nagorno-Karabakh ceasefire agreement signed between Armenia, Azerbaijan, and Russia, which ended the Second Nagorno-Karabakh War and guaranteed safe passage for Armenia through the Lachin corridor.[59][60] Azerbaijan and Russia ignored calls from various countries and international organizations to restore freedom of movement to Armenia through the corridor.[61][62]
Two weeks before the clashes, the Lemkin Institute for Genocide Prevention issued a report stating that there was "alarming evidence that President [Ilham] Aliyev may be planning a military assault on Artsakh in the very near future." The report noted that Aliyev had recently signed a new decree ordering all eligible citizens 18 years of age or older to report for military service between 1 October and 31 October 2023. The Lemkin Institute also warned that a "military assault on Artsakh could lead to the mass murder stage of genocide. It would almost assuredly result in the forced displacement of Armenians from Artsakh and the widespread commission of genocidal atrocities...[and]...Artsakh's Armenians would lose their distinct identity as Artsakhsis, an identity that has been forged through centuries—millennia—of independent cultural flourishing in their mountains and valleys."[63]
Offensive
19 September
On 19 September 2023, in violation of the 2020 ceasefire,[15][16] Azerbaijan launched a large-scale offensive against Republic of Artsakh. The Azerbaijan Ministry of Defense claimed to be undertaking "local anti-terrorist activities" and cited land mines allegedly planted by Armenian killing two Azerbaijani civilians and four police officers as a pretext.[64][65] The ministry demanded the disarmament and withdrawal of all ethnic Armenian soldiers, as well as the unconditional surrender and dissolution of the Republic of Artsakh.[66] The statement ended with a notice that the Russian peacekeeping contingent and the joint Russian-Turkish Monitoring Centre were informed about the operation,[67] but Russia denied this, adding that its peacekeepers were only informed of the matter a "few minutes" before it started.[68]
Azerbaijan claimed that no civilian positions were being attacked with weaponry, but witnesses reported that strikes were being carried out in close proximity to large cities and densely populated areas.[19] The attacks occurred in the midst of Azerbaijan's ongoing blockade of the region.[19] Azerbaijan said that it had set up "humanitarian corridors and reception points on the Lachin road and in other directions" which would "ensure the evacuation of the population from the dangerous area".[25] These announcements were distributed through SMS, leaflets, and social media and triggered fears of ethnic cleansing among the residents.[69] Artsakhi authorities warned its residents that "the Azerbaijani propaganda machine uses large-scale information and psychological influence measures."[70][71] The Cyber Security Service of Azerbaijan [az] temporarily restricted access to TikTok in Azerbaijan.[72][73]
Late in the afternoon, Nagorno-Karabakh's leadership offered to negotiate with Azerbaijan after it launched its military offensive and called on Azerbaijan to "immediately cease the hostilities and sit down at the negotiation table with the aim of settling the situation". The Presidential Administration of Azerbaijan responded by saying that it was ready to meet with representatives of Nagorno-Karabakh Armenians in the Azerbaijani town of Yevlakh.[64] It stressed at the same time that the Azerbaijani offensive would continue unless Artsakh disband its government bodies and armed forces.[74] The Azerbaijani Defence Ministry later said that its forces had captured more than 60 military posts and destroyed up to 20 military vehicles.[75] The Armenian daily Azg reported there were claims that Azerbaijan had captured the villages of Charektar and Getavan.[76] The Prosecutor General's Office of Azerbaijan claimed Armenian forces attacked Shusha with large-caliber weapons, killing one civilian.[77]
Artsakh authorities said the state's de facto capital, Stepanakert, and other cities were being heavily shelled, accusing Azerbaijan of attempted ethnic cleansing.[78][79] Artsakh's human rights ombudsman Gegham Stepanyan said two civilians, including a child, were killed,[80] while 11 others were injured,[81] eight of which were children.[68] By the end of the day, Artsakh reported that 27 people had been killed and more than 200 were injured.[82]
Artsakh authorities reported that they had evacuated over 7,000 people from 16 rural settlements,[83] while Russian peacekeepers evacuated 5,000 others.[84] Russian Foreign Ministry spokesperson Maria Zakharova announced that Russian food and medicine arrived in Artsakh via the Lachin and Agdam routes.[85]
20 September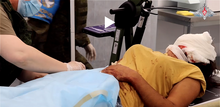 Armenian sources reported that Aznavur Saghyan, the mayor of Martuni, was killed[86] by an Azerbaijani sniper.[87] It was also reported that the Amaras Monastery near Sos had fallen under Azerbaijani control.[88] Azg reported that Azerbaijani forces had captured the settlements of Drmbon and Harav;[89] later that day, Chankatagh, Chapar, Karmir Shuka, Khachmach, Machkalashen, Sarushen, Shosh and Vaghuhas were also reported to have been captured.[90] Furthermore, the Armenian daily Aravot reported that the Kashen mine,[91] one of the biggest sources of tax revenue for the Artsakhi government,[92] had fallen under Azerbaijani control.[91] Artsakhi president Samvel Shahramanyan said "Nagorno-Karabakh will have to take relevant steps to ensure physical security of population".[93]
Artsakhi authorities agreed to a proposal by Russian peacekeeping forces to establish a ceasefire from 13:00 on 20 September.[94] Under the terms of the agreement, the government of the Republic of Artsakh agreed to disarm and to enter into talks with the government of Azerbaijan regarding the reintegration of the territory.[95] Among the Azerbaijani demands was a requirement for Arsakh and Armenia to surrender a list of individuals to Azerbaijan for prosecution and trial, including former and current Artsakhi civilian and military leaders.[96][97] Large masses of Armenian civilians began fleeing Artsakh after the ceasefire announcement, with many of them gathering at Stepanakert Airport.[98][99] Later, Nikol Pashinyan commented on this that "it is obvious to me that this is being done to cause internal political upheavals and chaos".[100] The Armenian government said it was not involved in the drafting of the ceasefire agreement, while Azerbaijani presidential envoy Elchin Amirbekov said that Russian peacekeepers helped facilitate the ceasefire.[84]
Colonel Anar Eyvazov [az], Spokesperson for the Azerbaijani Defense Ministry, announced that during the operation, Azerbaijan had captured 90 combat positions. He also said that Azerbaijani forces had captured seven combat vehicles, one tank, four mortars and two infantry fighting vehicles from Armenian military units as trophies.[101]
Shelling of Stepanakert continued until the city's electrical grid was knocked out several hours after the ceasefire was supposed to go into effect.[102][103] According to a statement from the Russian Ministry of Defense, several peacekeepers were killed near the village of Chankatagh in Tartar District after their vehicle was attacked [ru] while they were returning from an observation post.[104][105][106] Azerbaijani official Elin Suleymanov admitted that Azeri forces had killed the peacekeepers, calling it an accident, expressed condolences to Russia, and vowed to launch a probe into what happened.[13][107][108][109][110] Among those killed was Captain First Rank Ivan Kovgan, the deputy commander of Russia's Northern Fleet submarine forces,[111] and a concurrent deputy commander of the peacekeeping force.[112] With Azerbaijani cooperation, Russian peacekeepers detained suspects, and an Azerbaijani commander was suspended.[113] President Ilham Aliyev subsequently apologized over phone to Russian President Vladimir Putin for the incident.[114] According to the Prosecutor General's Office of Azerbaijan, a group of military personnel of the Azerbaijan army opened fire on a car with Russian peacekeepers, mistaken believing they were Armenian forces due to the difficult terrain and foggy-rainy weather conditions. As a result five peacekeepers were killed.[115][116]
Armenia accused Azerbaijan of firing at its soldiers in the border town of Sotk, which Azerbaijan denied.[84]
In a televised address that evening, President Aliyev reiterated that "Karabakh is Azerbaijan", adding that his "iron fist" had consigned the idea of Karabakh being a separate Armenian state to history.[117]
Aftermath
Flight of Armenians from Nagorno-Karabakh
After the fighting ended on 21 September, Azerbaijan opened the border for the first time in months to allow people to leave, and tens of thousands of Armenians began to flee out of the Lachin corridor as part of a large flight of Nagorno-Karabakh Armenians. On 24 September, Azerbaijan opened the Lachin corridor for residents of Nagorno-Karabakh to travel one-way to Armenia despite its ongoing blockade.[118] A mass evacuation of ethnic Armenian civilians from the region then started, fearing persecution and ethnic cleansing if they remain.[119] The first group of refugees arrived in Armenia through the border post at Kornidzor.[120] By the end of the day, the Armenian government said 1,050 refugees had arrived in the country.[121]
The last scheduled evacuation bus out of Nagorno-Karabakh left on 2 October carrying 15 refugees.[122] On the same day, the Artsakhi government said that some officials would stay on until search operations for people killed and missing were completed. Journalists who visited Stepanakert said the city was virtually abandoned except for a few residents, Azerbaijani police officers and Russian peacekeepers. They also added that Azerbaijani telecommunications firms and signals were already present in the city.[123] A United Nations report released the same day found that there were between 50 and 1,000 ethnic Armenians left in Nagorno-Karabakh.[124] The Armenian government said the number of refugees from Nagorno-Karabakh had reached 100,617 on 3 October,[14] nearly the entire current population of Nagorno-Karabakh.[6][125] A total of 21,043 vehicles were recorded to have crossed the Hakari Bridge going to Armenia in the week since the exodus began.[126]
The government of Artsakh said that families left homeless due to Azerbaijan's military offensive and who expressed a desire to leave Artsakh will be transferred to Armenia, accompanied by Russian peacekeepers. It was reported that 23 ambulances, accompanied by specialists and the Red Cross, were transporting 23 severely injured people from Artsakh to Armenia.[127] In Armenia, the theatre in the city of Goris was converted into a base for the Red Cross to accommodate refugees.[128] A secondary hub was later opened in Vayk.[129] Armenian Health Minister Anahit Avanesian said some refugees died in transit due to exhaustion brought about by malnutrition, the lack of medicines and the travel time which took up to 40 hours.[130] The Armenian government promised a one-off payment to each refugee of 100,000 drams and provide a monthly subsidy of 50,000 drams for at least six months, adding that it had so far managed to provided temporary accommodation for 53,000 refugees.[131]
During the movement of refugees, at least 170 people were killed[132] and more than 290 people were injured after an explosion at a fuel storage facility in Berkadzor, 6 kilometres (3.7 miles) from Stepanakert on 25 September. Most of the victims were queueing to obtain fuel for their vehicles while on their way to Armenia.[133] Victims with various degrees of burns were treated in the Republican Medical Center of Artsakh, facilities of the Arevik community organization, medical facilities in Ivanyan, and the medical station of Russian peacekeepers.[134] The Presidential Administration of Azerbaijan said it sent an ambulance carrying medical supplies.[135][136] 142 of the injured were later brought to Armenia.[130]
Arrests of Artsakhi officials
Azerbaijani forces were reported to be screening refugees fleeing to Armenia as part of its search for "war criminals" in border checkpoints.[137] The Azerbaijani State Border Service detained several Artsakhi officials in the Lachin corridor while attempting to cross into Armenia, including former army commander and defence minister Levon Mnatsakanyan,[138] former deputy army commander Davit Manukyan,[125] and Russian-Armenian billionaire Ruben Vardanyan, who was the former state minister.[139] Former foreign minister David Babayan surrendered to Azerbaijani authorities in Shusha.[140] Azerbaijani presidential adviser Hikmat Hajiyev later confirmed that up to six people had been arrested on charges of committing "war crimes".[141]
On 1 October, Azerbaijani Prosecutor-General Kamran Aliyev issued arrest warrants against former Artsakhi President Arayik Harutyunyan and military commander Jalal Harutyunyan over their role in the 2020 Ganja missile attacks during the Second Nagorno-Karabakh War,[142] adding that 300 other separatist officials were under investigation for alleged war crimes.[143]
On 3 October, the State Security Service of Azerbaijan detained former presidents Arkadi Ghukasyan, Bako Sahakyan[144] and Arayik Harutyunyan,[145][146] as well as President of the National Assembly Davit Ishkhanyan.[144][147]
Negotiations and dissolution of Artsakh
On 21 September, negotiations between representatives of Nagorno-Karabakh and Azerbaijan took place in Yevlakh to discuss security, rights and "issues of re-integration".[148] The Artsakhi delegation consisted of Sergey Martirosyan and Davit Melkumyan [hy], and was escorted by Russian peacekeepers. The Azerbaijani delegation consisted of Ramin Mammadov, Bashir Hajiyev and Ilkin Sultanov.[149] The head of the Joint Russian-Turkish Monitoring Center, Oleg Semyonov, was also present.[150][151] The talks, which lasted two hours, ended without a formal agreement, however a statement from the Azerbaijani government said the they were "constructive and positive" and that further negotiations would continue in October.[152][153] According to the Artsakhi delegation, the negotiations stalled due to a "whole host of questions", but specifically when they requested security guarantees that the Azerbaijani government would not force ethnic Armenians to leave the Nagorno-Karabakh region, however, both sides agreed on the cessation of military action.[154][155] Azerbaijan agreed to send food and fuel supplies to the region.[156]
On 22 September, Hikmet Hajiyev, foreign policy adviser to Azerbaijani president Ilham Aliyev, stated that his government would ensure that civilians can travel safely in their own vehicles on roads that connect Nagorno-Karabakh to Armenia.[157] He also suggested that an amnesty would be offered to former combatants who agree to disarm. Some ethnic Armenian armed groups vowed to continue fighting.[158][159] Rumors spread on some Internet news publications that these included former colonel Karen Jalavyan and his subordinates. A journalist from Hraparak contacted Jalavyan and asked him if the rumors were true, but he did not answer the question directly. Noticeably upset, he stated that "the entire nation has washed its hands from the people of Karabakh" and told Pashinyan to "go defend Artsakh".[160][161]
The second day of negotiations also ended in deadlock despite the amnesty offer to Artsakhi commanders and fighters as the Artsakhi delegation stated the questions of humanitarian aid, security guarantees, and a promise from the Azerbaijani delegation to not drive Armenians from Nagorno-Karabakh were unresolved.[162] According to Armenian journalist Tatul Hakobyan, a meeting between the head of State Security Service of Azerbaijan, Ali Naghiyev, and Artsakh's president Samvel Shahramanyan took place in Shusha.[163]
Elements of the Artsakh defense force began transferring their weapons to Russian peacekeepers,[164] with the Russian defence ministry confirming the turnover of six armored vehicles, more than 800 small arms units and 5,000 rounds of ammunition.[165] The memorial tank monument, a restored T-72 tank of Gagik Avsharyan commemorating the capture of Shusha and located on Shusha road, was reportedly dismantled by Azerbaijan.[166][167] Additionally, a convoy of 15 trucks from the Russian peacekeepers left Armenia for Nagorno-Karabakh, crossing the Lachin corridor.[168] More than 50 tonnes of humanitarian aid was delivered to Nagorno-Karabakh by Russian peacekeepers, according to the Russian defence ministry.[169] On 24 September, the town of Martakert was reported to have came under Azerbaijani military control.[170]
A second round of negotiations between representatives of Nagorno-Karabakh Armenians and Azerbaijan took place in Khojaly, where according to Azerbaijan, humanitarian issues were discussed.[171][172] The two sides agreed to a third meeting taking place in a few days time.[173]
On 26 September, Azerbaijani forces reportedly took control of Martuni (Khojavend).[174]
On 28 September, Artsakh president Samvel Shahramanyan signed a decree stating that all state institutions would be dissolved by 1 January 2024, bringing the existence of the breakaway republic to an end.[175][176]
Azerbaijani media reported on 29 September that a third meeting between representatives of the Karabakh Armenian community and officials from the government of Azerbaijan took place in Yevlakh.[177] Azerbaijani police vehicles were seen in Stepanakert[178] and officials placed the Azerbaijani flag on the city's We Are Our Mountains monument.[179][180]
A fourth round of talks was held in Stepanakert on 2 October, during which Azerbaijani authorities outlined their plans for the "reintegration" of the region.[181][182]
On 3 October, Azerbaijani officials reissued a 2021 map of Stepanakert renaming one of its streets after Enver Pasha, one of the main perpetrators of the Armenian genocide.[183][184]
On 15 October, President Ilham Aliyev visited Stepanakert and raised the Azerbaijani flag.[185]
Ceasefire violations
The Artsakh Ministry of Internal Affairs stated on 21 September that the Azerbaijani military violated the ceasefire and continued to shell Stepanakert "with different types of small arms".[23] Rheinische Post reported ceasefire violations by Azerbaijani forces and gunfire in Stepanakert, according to residents.[24] It was reported that electricity in Artsakh cannot be supplied because a number of substations that feed the electrical grid were under Azerbaijani control, with "Artsakhenergo" CJSC carrying out restoration works in Stepanakert.[186] Russia recorded two instances of ceasefire violations in Shusha District and three other instances in Mardakert District.[187] Artak Beglaryan [hy], former Artsakhi Minister of State, reported that Karkijahan, a suburb of Stepanakert, was "empty" following a ceasefire violation. Many residents took refuge in Stepanakert itself.[188] He stated that Azerbaijani troops entered several houses in the neighborhood.[189] To avoid further tensions, Russian peacekeepers were deployed in the outskirts of Stepanakert, including in Karkijahan.[190] Artsakhi armed forces were also deployed to the area.[189]
On 22 September, Artsakhi government spokesperson Armine Hayrapetyan told Agence-France Presse that Azerbaijani forces had positioned themselves around Stepanakert, prompting residents to hide in basements for fear of killings. She also added that since the Azerbaijani offensive, Stepanakert and other parts of Nagorno-Karabakh have lost most basic services such as electricity, gas, food, fuel, internet and telephone connections.[191]
On 23 September, the Russian Ministry of Defense said one ceasefire violation was recorded in the Mardakert region, which resulted in one Azerbaijani soldier being injured following a shootout.[192][193]
On 24 September, the Azerbaijani Defence Ministry claimed that two of its soldiers were killed after their truck hit a landmine.[133]
On 30 September, Azerbaijan claimed that one of its soldiers was killed by an Armenian army sniper in Aşağı Ayrım, Kalbajar District, which Armenia immediately denied.[194]
On 2 October, Armenia accused Azerbaijani forces of opening fire on a vehicle delivering food to military outposts around the village of Kut,[195] killing a soldier and injuring two others. On the same day, the Russian Defence Ministry said that a joint Russian-Azerbaijani patrol in Stepanakert was shot at by an unidentified sniper without causing any injury.[196]
On 5 October, Armenia and Azerbaijan accused each other of firing at military targets on each other's territory.[197]
Relief efforts
On 22 September, Azerbaijan said it had sent two 20-tonne trucks with food and hygiene products and well as two trucks with bread to Nagorno-Karabakh from Aghdam.[191]
For the first time since the Azerbaijani offensive, a Red Cross aid convoy was spotted at the Armenia–Azerbaijan border heading for Nagorno-Karabakh on 23 September.[198] The Red Cross later evacuated 17 people who were injured during the clashes.[199] In a separate delivery, Russia sent 50 tons of aid to Stepanakert.[200]
On 28 September, USAID sent a Disaster Assistance Response Team to the region to help coordinate the U.S. humanitarian response.[201]
Diplomatic efforts
At a meeting of the United Nations Security Council, Armenia proposed that a United Nations peacekeeping mission should be deployed to Nagorno-Karabakh and called for the establishment of an international mechanism for dialogue between the Azerbaijan and representatives of the ethnic Armenian community in the region.[202][203]
On 26 September, a meeting between Armen Grigoryan, head of Armenia's Security Council and Hikmat Hajiyev, Foreign Policy Advisor to the President of Azerbaijan, was hosted by the European Union in Brussels. At the meeting the EU emphasized the need for access for humanitarian and human rights organizations into Nagorno-Karabakh. It also wanted more details about the Azerbaijani government's plans for the future of Karabakh Armenians in Azerbaijan. Azerbaijan outlined its plans to provide humanitarian assistance and security to the local population in the region.[204][205] On the same day, United States Secretary of State Antony Blinken spoke with President Aliyev by telephone and urged him to refrain from further hostilities and to allow an international observer mission into Nagorno-Karabakh.[206] German foreign minister Annalena Baerbock also urged that independent observers be allowed into the region.[207] Russia insisted that any international observer mission in the region can only happen with permission from the government of Azerbaijan.[208]
On 27 September, US State Department spokesperson Matthew Miller announced the government of Azerbaijan had given assurances that it would welcome an international monitoring mission to the region and that the United States and its allies would discuss the composition and mandate of such a mission in the coming days.[209][210][211]
Azerbaijan announced on 29 September that it would facilitate a visit by United Nations observers to the region "in the coming days".[212] The UN later confirmed that it would send a mission to Nagorno-Karabakh for the first time in 30 years to address humanitarian needs. On the same day, Armenia formally requested the International Court of Justice to order Azerbaijan to withdraw its troops from civilian areas of Nagorno-Karabakh to ensure safe access by UN personnel.[213] It later petitioned the court to impose 10 "provisional measures" aimed at protecting the rights of ethnic Armenians from Nagorno-Karabakh and prevent Azerbaijan's "ethnic cleansing" of the region from becoming irreversible.[214] On 17 November, the court ruled that Azerbaijan had an obligation to allow the return of residents who fled following the offensive and protect those who had stayed behind.[215]
The United Nations in Azerbaijan, led by the UN Resident Coordinator Vladanka Andreeva, sent a mission to Nagorno-Karabakh to address humanitarian needs on 1 October. While visiting Stepanakert, the team claimed to have found no evidence of damage to public infrastructure in the areas it visited. The mission saw that the Azerbaijani government was preparing for the resumption of health services and some utilities.[216] The mission reportedly "was struck by the sudden manner in which the local population left their homes". It was reported to the team that between 50 and 1,000 ethnic Armenians remain in the region. It encountered no civilian vehicles on the Lachin road to the border crossing used by the refugees. The mission also had limited access to rural areas.[216][217] The mission was criticized for failing to mention the numerous casualties and injuries among Armenian civilians, the targeting of civilian infrastructure by Azerbaijan, and blockade of Nagorno-Karabakh by Azerbaijan over the previous nine months along with the humanitarian crisis it caused.[218][219][220] The delegation returned to the region on 9 October.[221][222]
Claims of violence against Armenians
When the offensive began, there were rumors of Azerbaijani forces surrounding several villages and killing Armenian civilians. Access to these villages was restricted during and after the offensive. Lawyer Anoush Baghdassarian was onsite in Goris to interview Armenian refugees and document possible war crimes and crimes against humanity.[223] On 19 October 2023, Anahit Manasyan, the Human Rights Defender of Armenia, announced that the bodies of numerous Armenian civilians massacred in Nagorno-Karabakh had been transported to Armenia. Manasyan stated that the bodies showed signs of torture and included women and children.[224]
Risk of genocide
Human rights organizations and experts in genocide prevention issued alerts stating that the ethnic Armenian population in Nagorno-Karabakh was at risk of genocide,[b] while others stated that Azerbaijan was already carrying out such actions.[233][234][235] The Lemkin Institute for Genocide Prevention states "There is no doubt in the minds of experts in genocide prevention – at the Lemkin Institute, but also at Genocide Watch, the International Association of Genocide Scholars, and among legal experts such as former ICC chief prosecutor Luis Moreno Ocampo – that what Armenians are facing from Azerbaijan is genocide."[236] Experts in genocide prevention have stated that Azerbaijan's ongoing blockade of Artsakh and sabotage of public infrastructure constitutes genocide under Article II, (c) of the Genocide Convention, "Deliberately inflicting on the group conditions of life calculated to bring about its physical destruction". There are various indicators that Azerbaijan possesses genocidal intent: President Aliyev's public statements, his regime's openly Armenophobic practices and noncompliance with the International Court of Justice orders to end the blockade.[237][238][239]
Christian Solidarity International emphasized that the "United States has had ample notice of the forced deportation that is now unfolding in Nagorno Karabakh, starting with Genocide Watch Emergency Alerts in 2020, 2021, 2022, and a Genocide Warning issued by the Save Karabakh Coalition in December 2022. These warnings were followed by two Genocide Emergency Alerts issued Genocide Watch in 2023, and a declaration of genocide by the first Chief Prosecutor of the International Criminal Court, Luis Moreno Ocampo."[235] Thomas de Waal, a senior fellow at Carnegie Europe, commented on Azerbaijan's ongoing nine-month long blockade of the region: "Armenians fear that this is a prelude to an Azerbaijani attempt to fully drive them all out of their homeland."[240]
Analysis
Various political analysts and Artsakh residents consider Azerbaijan's underlying goal for the offensive to be ethnic cleansing.[25][241]
Luis Moreno Ocampo, the first Prosecutor of the International Criminal Court, warned that another Armenian genocide was about to take place. Citing the 1948 Genocide Convention, he stated that Azerbaijan was purposely inflicting living conditions to physically destroy a specific group by blocking the Lachin corridor, and was proceeding to kill and cause "serious bodily and mental harm". Moreno Ocampo stated the inaction of the international community would encourage Azerbaijan in the belief that it would face no serious consequences for committing genocide. He also discredited Aliyev's claims that his regime was not seeking ethnic cleansing, pointing out that Aliyev regularly referred to Armenia as "Western Azerbaijan" and claimed "present-day Armenia is our land".[27]
Thomas de Waal said that Azerbaijan was emboldened to start its offensive during a downturn in relations between Russia and Armenia, and the loss of the Russian peacekeeping force's "best commanders" to the invasion of Ukraine. He also said that Russia could use such a crisis to instigate regime change in Armenia.[68]
A group of 123 Turkish academics released a statement warning the international community about Azerbaijan's intentions to commit genocide in Nagorno-Karabakh. In response, the Federation of Eurasian Turkic Associations called for the academics to have their citizenship revoked and for them to be expelled to Armenia.[242]
Belarusian Nobel Prize laureate Ales Bialiatski coined the term "Azerbaijanization" to describe NATO member countries' tendency to ignore violations of human rights when it suits their interests.[243]
Sergey Radchenko, a historian on Cold War politics and professor at Cardiff University, questioned the lack of international intervention in Nagorno-Karabakh, comparing the situation to that of NATO's intervention in Kosovo in 1999.[244]
Nikolay Mitrokhin, a researcher at the University of Bremen, attributed the speed of Azerbaijan's victory to its demographic superiority over both Nagorno-Karabakh and Armenia and the failure of the latter to strengthen their defenses and strategies against the modernized Azerbaijani military. He also attributed the collapse of the Nagorno-Karabakh military to the weakness and corruption of both the Nagorno-Karabakh and Armenian economies which turned away potential investors in their militaries. He also noted that these factors had already contributed to the previous Azerbaijani victory in 2020.[245]
Reactions
Armenia
Armenian Prime Minister Nikol Pashinyan stated that the Armenian Armed Forces were not involved in the fighting and that its forces were not stationed in Nagorno-Karabakh. He also reiterated that the situation in the Armenia-Azerbaijan border was stable and said that Azerbaijan was trying to ethnically cleanse the region.[78] Pashinyan also said that Azerbaijan's motivation for the attack was to draw Armenia into a military confrontation.[70] Following the ceasefire on 20 September, Pashinyan said the country was preparing for an influx of 40,000 families from Nagorno-Karabakh.[246]
Armenia's Ministry of Defense accused Azerbaijani officials of spreading misinformation, saying that there is no Armenian military equipment or personnel present in Nagorno-Karabakh.[78][247] The Armenian foreign ministry accused Azerbaijan of unleashing "large-scale aggression" against Karabakh and attempting "ethnic cleansing" in the region.[78][79] Armenia called on the United Nations Security Council and Russia to take action to end the military operation, while Pashinyan called an emergency meeting of the country's National Security Council.[78] The council's secretary, Armen Grigoryan, accused Russian peacekeepers of failing to protect Nagorno-Karabakh,[248] which was also echoed by Pashinyan.[249]
Following the announcement of the ceasefire, protests erupted in the capital Yerevan over the impending loss of Nagorno-Karabakh. The pro-Western National Democratic Alliance blamed the situation on Russia's failure to intervene, while members of the pro-Russian political opposition blamed Pashinyan for the defeat and accused him of betraying Nagorno-Karabakh's residents "in favor of the interests of the West."[250]
On 3 October, the National Assembly of Armenia voted 60-22 in favor of ratifying the Rome Statute, which would enable Armenia to join the International Criminal Court. Although the government claimed that the move to create additional guarantees for Armenia in response to Azerbaijani aggression, it was also seen as a sign of worsening relations with Russia, whose president, Vladimir Putin, is wanted by the court on charges of war crimes in the invasion of Ukraine.[251] The measure was signed into law by President Vahagn Khachaturyan on 14 October.[252]
On 28 November 2023, the president of the National Assembly of Armenia Alen Simonyan stated that the Nagorno-Karabakh conflict is over and Armenia should not prioritize the quick return of the recently displaced Karabakh Armenians to their homes in peace talks with Azerbaijan. Simonyan confirmed that "Armenia fully recognizes the territorial integrity of Azerbaijan, including Nagorno-Karabakh."[253]
Armenian diaspora
In Los Angeles, members of the Armenian community used a trailer truck to block a major freeway for several hours to draw attention to the situation in Nagorno-Karabakh on 19 September, causing major traffic jams. Actress Kim Kardashian, who is of Armenian descent, called on US President Joe Biden "to stop another Armenian genocide" on social media.[254]
In Lebanon, firecrackers were thrown at the Azerbaijani embassy in the Ein Aar suburb of Beirut during a protest by Lebanese Armenians on 28 September, prompting riot police to disperse them with tear gas.[255]
Russia
Russian foreign ministry spokeswoman Maria Zakharova said that Russia was "deeply alarmed by the sharp escalation."[78][256] Chairman of the Security Council of Russia Dmitry Medvedev said that Russia will not defend Armenia from the Azerbaijani offensive, while strongly criticizing Armenian Prime Minister Nikol Pashinyan for "[flirting] with NATO" and "defiantly going to [Russia's] enemies with cookies".[257] This comes despite Russia and Armenia both being members of the Collective Security Treaty Organization mutual defense pact and Russia stationing several thousand soldiers in Armenia and Nagorno-Karabakh as peacekeepers.[258]
Presidential spokesperson Dmitry Peskov denied accusations from Armenia that the country's peacekeepers had failed to protect Nagorno-Karabakh from the Azerbaijani attack, calling them "unfounded".[248] Peskov later said that the future of the peacekeeping mission was to be decided between Russia and Armenia now that their area of operation was effectively in Azerbaijani territory.[259] A week before the fighting, President Vladimir Putin said that the country could do nothing if Armenia had already recognized Nagorno-Karabakh as part of Azerbaijan, referring to statements made by Pashinyan in May that appeared to recognize Azerbaijani sovereignty over Nagorno-Karabakh in exchange for security guarantees towards the Armenian population.[84]
The independent Russian media outlet Meduza said it had obtained a guidance document from the Kremlin circulated on 19 September to state media outlets that recommended blaming Armenia and the West, rather than Azerbaijan, for the escalation of the conflict in Nagorno-Karabakh.[248] Speaking at the 78th United Nations General Assembly in New York City on 23 September, Foreign Minister Sergei Lavrov accused the Armenian leadership of adding "fuel to the fire", referring to the conflict, and reiterated that agreements made following the collapse of the Soviet Union in 1991 stated that the existing borders of its former constituent republics were inviolable, hereby recognizing Nagorno-Karabakh as part of Azerbaijan.[260]
Turkey
Hakan Fidan, the Minister of Foreign Affairs, offered diplomatic support to Azerbaijan, stating that their military operation was "justified" and that "Azerbaijan has taken the measures it deems necessary on its own sovereign territory."[261] Addressing the United Nations General Assembly, Turkish President Recep Tayyip Erdoğan stated "As everyone now acknowledges, Karabakh is Azerbaijani territory. Imposition of another status [to the region] will never be accepted," and that "[Turkey] support[s] the steps taken by Azerbaijan — with whom we act together with the motto of one nation, two states — to defend its territorial integrity."[262] Erdoğan also met with Aliyev in the Nakhchivan Autonomous Republic.[263]
European Union
The President of the European Council of the European Union Charles Michel condemned Azerbaijan's hostility and urged the country to immediately stop its military activities and return to dialogue, through a social media post.[264]
On 21 September, Josep Borrell, the High Representative of the European Union for Foreign Affairs and Security Policy released a statement which condemned the military operation by Azerbaijan against the Armenian population of Nagorno-Karabakh and deplored the casualties and loss of life caused by the offensive.[265] According to RFE/RL's journalist Rikard Jozwiak, this was not issued as a joint statement of the entire bloc because it was vetoed by Hungary.[266][267] Hungarian Foreign Minister Péter Szijjártó denied this and said that the country, "along with several other member states, provided feedback and proposed amendments for a joint statement." However, he said that a consensus was not reached, which led Borrell to issue the statement on his own behalf.[268]
David McAllister, chair of the European Parliament's foreign affairs committee, warned of "serious consequences" if Armenians were pressured to leave.[269]
The President of the European Commission, Ursula von der Leyen condemned "the military operation by Azerbaijan against the Armenian population of Nagorno-Karabakh and reaffirmed the need to respect the sovereignty and territorial integrity of Armenia". She also announced preparations for a joint EU-US event to support Armenia.[270]
Other countries
Other international organizations
See also
Notes
References
External links