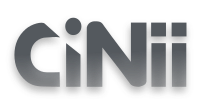 Ti CiNii (/ˈsaɪniː/ [1]) ket serbisio ti bibliograpiko a database para iti akademiko a panagipablaak, a nangruna a mangigandat kadagiti obra iti Hapon ken dagiti Ingles nga obra a naipablaak idiay Hapon. Ti database ket napundar idi Abril 2005 ken tinartaripato babaen ti Nailian nga Instituto ti Inpormatika.[2] Ti serbisio ket agbiruk manipud iti uneg dagiti database a tinartaripato babaen ti NII [NII Electronic Library Service (NII-ELS) and Citation Database for Japanese Publications (CJP)], ken dagiti pay database a maited babaen ti Nailian a Biblioteka ti Dieta ti Hapon, dagiti pagipenpenan nga instituto, ken dagiti dadduma pay a gunglo.[3]
Ti database ket aglaon ti ad-adu ngem 15 a riwriw nga artikulo manipud kadagiti ad-adu ngem 3600 a pablaak.[4] Ti kadawyan a bulan (idi 2012) ket nakakita ti ad-adu ngem 30 a riwriw a panagserrek manipud kadagiti 2.2 a riwriw a naisangayan a bisita,[5] ken ti kadakkelan ken kakomprehensibuan a kita ti database idiay Hapon. Urayno ti database ket adu ti kita a displinario, ti kadakkelan a paset dagiti maawatna a panagusisa ket ti nagtagitaon ken ti pagobraan ti siensia sosial, mabalin daytoy a gapu ti CiNii ket is-isu ti database a mangsakop kadagiti eskolar nga obra ti Hapon iti datoy a pagobra (a kasumbangir ti natural, pormal, ken dagiti medikal a siensia ti a makaserbi manipud kadagiti sabali a database).[6]
Ti database ket mangikeddeng ti naisangayan a panangilasin, ti NII Article ID (NAID), para kadagiti amin a maikabkabil nga artikulo ti warnakan.[5] Ti maysa pay a panangilasin, ti NII Citation ID (NCID wenno 書誌ID) aka NACSIS-CAT Record ID, ket inus-usar kadagiti mlibro.
Maikeddeng pay dagiti panangilasin kadagiti mannurat dagiti libro, ken dagiti artikulo ti warnakan, kadagiti dua a naisina a serye (tapno ti maysa a mannurat ket mabalin nga addaan iti sabali a pateg ti panangilasin iti tunggal maysa). Kas pagarigan, ni Shinsaku Kimoto ket DA00432173 for books and 9000002393144 para kadagiti artikulo ti warnakan.