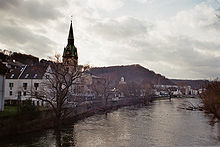 Hagen-Hohenlimburg (formerly known as Limburg an der Lenne, changed to Hohenlimburg in 1903; Westphalian: Limmerg), on the Lenne river, is a borough of the city of Hagen in North Rhine-Westphalia, Germany.
Hohenlimburg was formerly the chief town of the county of Limburg-Hohenlimburg in medieval Germany, first documented in 1230, and belonged to the counts of Limburg Hohenlimburg and Broich.[1] In the 13th century, Dietrich I of Isenberg recovered a small territory out of the previous possessions of his father Friedrich II of Isenberg, built a castle and took the title of count of Limburg, [2] a family which still lives today in Belgium and the Netherlands.[3]
Later Hohenlimburg passed to the counts of Bentheim-Tecklenburg. As of 1911, the castle of Hohenlimburg, which overlooks the town, was the residence of Prince Adolf of Bentheim-Tecklenburg.[4]
Also as of 1911, the town was involved in iron and metal industries, and dyeing, cloth-making and linenweaving also took place. The population in 1905 was 12,790,[4] and its 2004 population was 27,337.
Hohenlimburg station is on the Ruhr–Sieg railway and is served by two lines, Regional-Express service RE 16 (Ruhr-Lenne-Express) from Essen via Hagen to Iserlohn and Regionalbahn service RB 91 (Ruhr-Sieg-Bahn) from Hagen to Siegen or Iserlohn, both running hourly.
Wilhelm Böing (3 May 1846 – 10 January 1890), who emigrated in 1868 from Hohenlimburg to the US and became a timber merchant in Detroit, was the father of William Boeing, founder of the Boeing company.
Liévin, a town in northern France, was twinned with Hohenlimburg in 1962.
References
[
edit
]
51°22′N 7°36′E / 51.367°N 7.600°E / 51.367; 7.600