List of Ghettos in Nazi-occupied Europe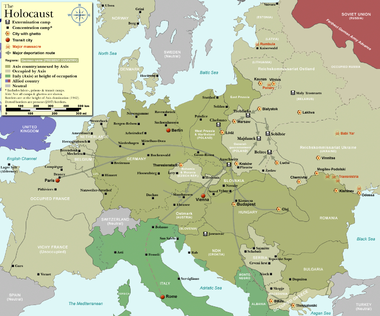 This article is a partial list of selected Jewish ghettos created by the Nazis for the purpose of isolating, exploiting and finally, eradicating Jewish population (and sometimes Romani people) on territories they controlled. Most of the ghettos were set up by the Third Reich in the course of World War II. In total, according to USHMM archives, "The Germans established at least 1,000 ghettos in German-occupied and annexed Poland and the Soviet Union alone." Therefore, the examples are intended only to illustrate their scope across Eastern and Western Europe.[2]
In Europe
[
edit
]
Large Nazi ghettos in which Jews were confined existed across the continent. These ghettos were liquidated as Holocaust transports delivered their helpless victims to concentration and extermination camps built by Nazi Germany in occupied Poland.[1]
German-occupied Poland
[
edit
]
Following the 1939 Invasion of Poland, the new ghetto system had been imposed by Nazi Germany roughly between October 1939 and July 1942 in order to confine Poland's Jewish population of 3.5 million for the purpose of persecution, terror, and exploitation.[3] The Warsaw Ghetto was the largest ghetto in all of Nazi occupied Europe, with over 400,000 Jews crammed into an area of 3.4 square kilometres (1+3⁄8 square miles), or 7.2 persons per room.[4] The Łódź Ghetto was the second largest, holding about 160,000 inmates.[5]
A more complete list of over 270 ghettos with an approximate number of prisoners, dates of creation and liquidation, as well as known deportation routes to extermination camps, is available at Jewish ghettos in German-occupied Poland. Below, selected Nazi German designations are listed.
Other countries and occupied territories
[
edit
]
Ghettos outside Europe
[
edit
]
Shanghai Ghetto (1937-1941 Less Restriction over Jews by Japanese) (1942-1945) Japanese forced 16,000 Jews into a one square mile Ghetto, where they were often the victims of air raids by the U.S.' 7th Air Force, and often had no running water, no bathroom, heavy rations, and it was not uncommon for 30-40 people to sleep in the same room. [7]
References
[
edit
]
Bibliography
[
edit
]