Liberal David Lloyd George formed a coalition government in the United Kingdom in December 1916, and was appointed Prime Minister of the United Kingdom by King George V. It replaced the earlier wartime coalition under H. H. Asquith, which had been held responsible for losses during the Great War.[2] Those Liberals who continued to support Asquith served as the Official Opposition. The government continued in power after the end of the war in 1918, though Lloyd George was increasingly reliant on the Conservatives for support. After several scandals including allegations of the sale of honours, the Conservatives withdrew their support after a meeting at the Carlton Club in 1922, and Bonar Law formed a government.[2]
Cabinets
[
edit
]
War Cabinet, December 1916 – January 1919
[
edit
]
Changes
[
edit
]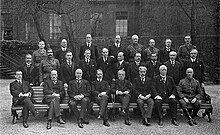 Peacetime Cabinet, January 1919 – October 1922
[
edit
]
Note: The War Cabinet was formally maintained for much of 1919, but as Lloyd George was out of the country for many months this made little difference; in October 1919 a formal Cabinet was reinstated.
Changes
[
edit
]
List of ministers
[
edit
]
Members of the Cabinet are listed in boldface. Members of the War Cabinet, 6 December 1916 to 31 October 1919, are indicated.
References
[
edit
]
Further reading
[
edit
]
Primary sources
[
edit
]