The Agriculture Portal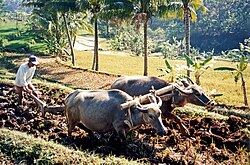 Agriculture or farming is the practice of cultivating plants and livestock. Agriculture was the key development in the rise of sedentary human civilization, whereby farming of domesticated species created food surpluses that enabled people to live in cities. The history of agriculture began thousands of years ago. After gathering wild grains beginning at least 105,000 years ago, nascent farmers began to plant them around 11,500 years ago. Sheep, goats, pigs and cattle were domesticated over 10,000 years ago. Plants were independently cultivated in at least 11 regions of the world. Industrial agriculture based on large-scale monoculture in the twentieth century came to dominate agricultural output, though about 2 billion people still depended on subsistence agriculture.
The major agricultural products can be broadly grouped into foods, fibers, fuels, and raw materials (such as rubber). Food classes include cereals (grains), vegetables, fruits, cooking oils, meat, milk, eggs, and fungi. Over one-third of the world's workers are employed in agriculture, second only to the service sector, although in recent decades, the global trend of a decreasing number of agricultural workers continues, especially in developing countries, where smallholding is being overtaken by industrial agriculture and mechanization that brings an enormous crop yield increase.
Modern agronomy, plant breeding, agrochemicals such as pesticides and fertilizers, and technological developments have sharply increased crop yields, but cause ecological and environmental damage. Selective breeding and modern practices in animal husbandry have similarly increased the output of meat, but have raised concerns about animal welfare and environmental damage. Environmental issues include contributions to global warming, depletion of aquifers, deforestation, antibiotic resistance, and other agricultural pollution. Agriculture is both a cause of and sensitive to environmental degradation, such as biodiversity loss, desertification, soil degradation, and global warming, all of which can cause decreases in crop yield. Genetically modified organisms are widely used, although some are banned in certain countries. (Full article...)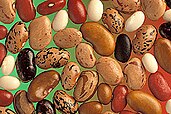 "Bean"
is a common name for large plant
seeds
of several
genera
of the
family
"
fabaceae
" (alternately "leguminosae") used for human food or
animal feed
.
The whole young pods of bean plants, if picked before the pods ripen and dry, are very tender and may be eaten cooked or raw. Thus the term "green beans" means "green" in the sense of unripe (many are in fact not green in color). In some cases, the beans inside the pods of "green beans" are too small to comprise a significant part of the cooked fruit. Beans have significant amounts of fiber and soluble fiber, with one cup of cooked beans providing between nine and 13 grams of fiber. Soluble fiber can help lower blood cholesterol. Beans are also high in protein, complex carbohydrates, folate, and iron.
Beans are one of the longest-cultivated plants. Broad beans, with seeds the size of the small fingernail, were gathered in their wild state in Afghanistan and the Himalayan foothills. In a form improved from naturally occurring types, they were grown in Thailand already since the early seventh millennium (BC), predating ceramics. They were deposited with the dead in ancient Egypt. Not until the second millennium BC did cultivated, large-seeded broad beans appear in the Aegean, Iberia and transalpine Europe. In the "Iliad" (late-8th century) is a passing mention of beans and chickpeas cast on the threshing floor. The oldest-known domesticated beans in the Americas were found in Guitarrero Cave, an archaeological site in Peru, and dated to around the second millennium BCE. (Full article...)
The following are images from various agriculture-related articles on Wikipedia.
Image 5Modern facilities in molecular biology are now used in plant breeding. (from Plant breeding)

Image 6Biomass distribution of humans, livestock, and other animals (from Livestock)

Image 13This Australian road sign uses the less common term "stock" for livestock. (from Livestock)

Image 14Pigs being loaded into their transport (from Livestock)

Image 15Agriculture terraces were (and are) common in the austere, high-elevation environment of the Andes. (from History of agriculture)

Image 26Goat family with one-week-old kid (from Livestock)

Image 38The Yecoro wheat (right) cultivar is sensitive to salinity, plants resulting from a hybrid cross with cultivar W4910 (left) show greater tolerance to high salinity (from Plant breeding)

Image 44Global distribution data for cattle, buffaloes, horses, sheep, goats, pigs, chickens and ducks in 2010 (from Livestock)


Select [►] to view subcategories
Select [►] to view subcategories
| | |
| --- | --- |
| | Here are some tasks awaiting attention: |
 – When a task is completed, please remove it from the list.

See also: