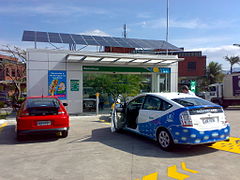 A car or automobile is a motor vehicle with wheels. Most definitions of cars say that they run primarily on roads, seat one to eight people, have four wheels, and mainly transport people (rather than goods).
Cars were invented in 1886, when German inventor Carl Benz patented his Benz Patent-Motorwagen. Cars became widely available during the 20th century. One of the first cars affordable by the masses was the 1908 Model T, an American car manufactured by the Ford Motor Company. Cars were rapidly adopted in the US, where they replaced horse-drawn carriages. In Europe and other parts of the world, demand for automobiles did not increase until after World War II. The car is considered an essential part of the developed economy.
Cars have controls for driving, parking, passenger comfort, and a variety of lights. Over the decades, additional features and controls have been added to vehicles, making them progressively more complex. These include rear-reversing cameras, air conditioning, navigation systems, and in-car entertainment. Most cars in use in the early 2020s are propelled by an internal combustion engine, fuelled by the combustion of fossil fuels. Electric cars, which were invented early in the history of the car, became commercially available in the 2000s and are predicted to cost less to buy than gasoline cars before 2025. The transition from fossil fuels to electric cars features prominently in most climate change mitigation scenarios, such as Project Drawdown's 100 actionable solutions for climate change. (Full article...)
Entries here consist of Good and Featured articles, which meet a core set of high editorial standards.
---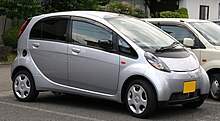 The Mitsubishi i (三菱・i, Mitsubishi i) is a kei car from automaker Mitsubishi Motors, first released in January 2006, twenty eight months after its debut at the 2003 Frankfurt Motor Show. It is the first four-door automobile since the 1960s to employ a "rear midship" setup with the engine behind the passengers, in an attempt to improve safety and interior space without enlarging the overall exterior.
The innovative layout and styling of the
i
proved an immediate critical and commercial success, exceeding Mitsubishi's initial sales targets by 20 percent and winning thirteen awards in its first year. Although designed with the Japanese
keijidōsha
light automobile class in mind, the attention it generated led to its subsequent introduction in
right hand drive
markets in
Asia
,
Oceania
and
Europe
. It is also used as a basis of the 2009
i-MiEV
battery electric vehicle
. (
Full article...
)
Selected article -
Beam's Shell Service Station and Office, also known as C. Grier Beam Truck Museum, is a historic service station located at 117 N. Mountain St. in Cherryville, Gaston County, North Carolina. It was built about 1930 by the Shell Oil Company, and is a one-story, rectangular Mission/spanish Revival style building. Associated with the service station are the original pump island and gasoline pumps.
It was listed on the
National Register of Historic Places
in 1997. (
Full article...
)
Selected picture of the day
Selected biography -
Ferdinand Karl Piëch (German pronunciation: [ˈfɛʁdinant ˈpiːɛç] (

listen); 17 April 1937 – 25 August 2019) was an Austrian business magnate, engineer and executive who was the chairman of the executive board (Vorstandsvorsitzender) of Volkswagen Group in 1993–2002 and the chairman of the supervisory board (Aufsichtsratsvorsitzender) of Volkswagen Group in 2002–2015.
A grandson of Ferdinand Porsche, Piëch started his career at Porsche, before leaving for Audi after an agreement that no member of the Porsche or Piëch families should be involved in the day-to-day operations of the Porsche company. Piëch eventually became the head of Audi, where he is credited with evolving and growing Audi into a competitor to equal Mercedes-Benz and BMW, thanks in part to innovative designs such as the Quattro and 100. In 1993, Piëch became the chairman and CEO of Volkswagen Group, which he is credited with turning into the large conglomerate it is today; He oversaw the purchase of Lamborghini and Bentley, as well as
the founding of
Bugatti Automobiles
, all of which he integrated with the
Volkswagen
,
Škoda
,
SEAT
and
Audi
brands into a ladder-type structure similar to that used by
Alfred Sloan
at
General Motors
. Piëch was required to retire at age 65 per Volkswagen company policy, but he remained on its supervisory board and was involved in the company's strategic decisions until his resignation on 25 April 2015. (
Full article...
)
Did you know...
Selected quote of the day
When you drive from Melbourne to Broken Hill, as I did recently, you find you want to do it in a bigger, more comfortable car. If consumers bought what they wanted to buy there would always be (plenty) who would buy a full-size car.
Topics
The following are images from various car-related articles on Wikipedia.
Image 12Mass production at a Toyota plant in the 1950s (from Car)

Image 19A car being assembled in a factory (from Car)

Image 24Result of a serious car collision (from Car)

Image 31Émile Levassor (from Car)

Image 32Armand Peugeot (from Car)

Image 41Gustave Trouvé's tricycle, the first ever electric automobile to be shown in public (from Car)

Image 42A Chevrolet Suburban extended-length SUV weighs 3,300 kilograms (7,200 lb) (gross weight). (from Car)

Image 47In the Ford Model T the left-side hand lever sets the rear wheel parking brakes and puts the transmission in neutral. The lever to the right controls the throttle. The lever on the left of the steering column is for ignition timing. The left foot pedal changes the two forward gears while the centre pedal controls reverse. The right pedal is the brake. (from Car)

Image 49Low battery and motors can improve safety (from Car)
Categories

Select [►] to view subcategories
Things you can do to help
If you wish to help, you can:
- There are many short articles that require additional information.
- The car news needs to be up-to-date with current automotive events.
- Add a great biography to the portal.
- We need pictures of the beautiful cars the world has to offer.
- Upload picture for requested photographs of cars
- A place dedicated for enthusiasts dedicated to improving automobile coverage.
- Famous quotes from the past.