The Palaeontology Portal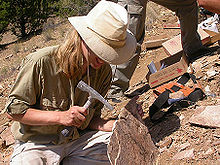 Paleontology (/ˌpeɪliɒnˈtɒlədʒi, ˌpæli-, -ən-/), also spelled palaeontology or palæontology, is the scientific study of life that existed prior to, and sometimes including, the start of the Holocene epoch (roughly 11,700 years before present). It includes the study of fossils to classify organisms and study their interactions with each other and their environments (their paleoecology). Paleontological observations have been documented as far back as the 5th century BC. The science became established in the 18th century as a result of Georges Cuvier's work on comparative anatomy, and developed rapidly in the 19th century. The term has been used since 1822 formed from Greek παλαιός ('palaios', "old, ancient"), ὄν ('on', (gen. 'ontos'), "being, creature"), and λόγος ('logos', "speech, thought, study").
Paleontology lies on the border between biology and geology, but differs from archaeology in that it excludes the study of anatomically modern humans. It now uses techniques drawn from a wide range of sciences, including biochemistry, mathematics, and engineering. Use of all these techniques has enabled paleontologists to discover much of the evolutionary history of life, almost all the way back to when Earth became capable of supporting life, nearly 4 billion years ago. As knowledge has increased, paleontology has developed specialised sub-divisions, some of which focus on different types of fossil organisms while others study ecology and environmental history, such as ancient climates. (Full article...)
Selected article on the prehistoric world and its legacies

Kritosaurus
is an incompletely known but historically important
genus
of
hadrosaurid
(duck-billed)
dinosaur
. It lived about 74-70 million years ago, in the
Late Cretaceous
of
North America
. The name means "separated lizard" (referring to the arrangement of the cheek bones in an incomplete
type
skull), but is often mistranslated as "noble lizard" in reference to the presumed "
Roman nose
" (in the original specimen, the nasal region was fragmented and disarticulated, and was originally restored flat). Despite the dearth of material, this
herbivore
appeared frequently in dinosaur books until the 1990s, although what was usually represented was the much more completely known
Gryposaurus
, then thought to be a synonym. (
see more...
)


General images -
The following are images from various paleontology-related articles on Wikipedia.
Selected article on paleontology in human science, culture and economics

William Beebe
was an
American
naturalist
,
ornithologist
,
marine biologist
,
entomologist
,
explorer
, and
author
. He is remembered for the numerous expeditions he conducted for the
New York Zoological Society
, his deep dives in the
Bathysphere
, and his prolific
scientific writing
for both academic and popular audiences.
Born in Brooklyn, New York Beebe left college before obtaining a degree in order to work at the then newly opened New York Zoological Park, where he was given the duty of caring for the zoo's birds. Beebe participated in a series of research expeditions, including one intended to document the world's pheasants. He published an account of his pheasant expedition titled A Monograph of the Pheasants.
During the course of his expeditions Beebe gradually developed an interest in marine biology, ultimately leading to his 1930s dives in the Bathysphere off the coast of Bermuda. These dives represented the first time a biologist observed deep-sea animals in their native environment. Later, Beebe returned to the tropics and founded a tropical research station which remains in operation as part of the Asa Wright Nature Centre. Beebe's research there continued until his death in 1962.
He is also remembered for several theories he proposed about avian evolution which are now regarded as having been ahead of their time, particularly his 1915 hypothesis that the evolution of bird flight passed through a four-winged or "Tetrapteryx" stage, which has been supported by the 2003 discovery of Microraptor gui. (see more...)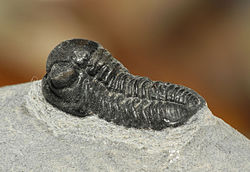 Focus stacked composite of 7 photographs of a trilobite fossil.
Photo credit: Thomas Bresson

Select [►] to view subcategories
Current Paleontology FACs - None yet...