Social network
analysis diagram
A society is a group of individuals involved in persistent social interaction, or a large social group sharing the same spatial or social territory, typically subject to the same political authority and dominant cultural expectations. Societies are characterized by patterns of relationships (social relations) between individuals who share a distinctive culture and institutions; a given society may be described as the sum total of such relationships among its constituent of members. In the social sciences, a larger society often exhibits stratification or dominance patterns in subgroups.
Societies construct patterns of behavior by deeming certain actions or concepts as acceptable or unacceptable. These patterns of behavior within a given society are known as societal norms. Societies, and their norms, undergo gradual and perpetual changes.
So far as it is collaborative, a society can enable its members to benefit in ways that would otherwise be difficult on an individual basis; both individual and social (common) benefits can thus be distinguished, or in many cases found to overlap. A society can also consist of like-minded people governed by their own norms and values within a dominant, larger society. This is sometimes referred to as a subculture, a term used extensively within criminology, and also applied to distinctive subsections of a larger society.
More broadly, and especially within structuralist thought, a society may be illustrated as an economic, social, industrial or cultural infrastructure, made up of, yet distinct from, a varied collection of individuals. In this regard society can mean the objective relationships people have with the material world and with other people, rather than "other people" beyond the individual and their familiar social environment. (Full article...)
Polish culture during World War II
was suppressed by the
occupying powers
of
Nazi Germany
and the
Soviet Union
, both of whom were hostile to Poland's
people
and
culture
. Policies aimed at
cultural genocide
resulted in the deaths of thousands of scholars and artists, and the theft or destruction of innumerable cultural artifacts. British historian
Niall Ferguson
writes that "the maltreatment of the Poles was one of many ways in which the Nazi and Soviet regimes had grown to resemble one another". The occupiers looted or destroyed much of Poland's cultural heritage, while persecuting and killing members of the Polish
cultural elite
. Most
Polish schools
were closed, and those that remained open saw their
curricula
altered significantly. Nevertheless, underground organizations and individuals—in particular the
Polish Underground State
—saved much of Poland's most valuable cultural heritage, and worked to salvage as many cultural institutions and artifacts as possible. The
Catholic Church
and wealthy individuals contributed to the survival of some artists and their works. Despite severe retribution by the Nazis and Soviets, Polish underground cultural activities, including publications, concerts, live theater, education, and academic research, continued throughout the war.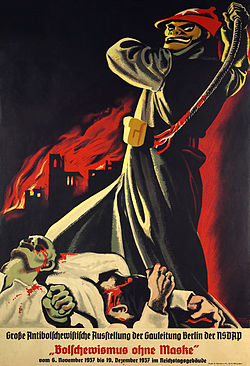 Credit: Poster: Herbert Agricola; Restoration:
Jujutacular
A 1937 anti-Bolshevik Nazi propaganda poster. A man with a skeleton face stands over bloody corpses, wielding a whip. His hat and clothing are Bolshevik in style. Before World War II, Nazi propaganda strategy, officially promulgated by the Ministry of Public Enlightenment and Propaganda, stressed several themes. Their goals were to create external enemies (countries that allegedly inflicted the Treaty of Versailles on Germany) and internal enemies. Translated caption: "Bolshevism without a mask – large anti-Bolshevik exhibition of the NSDAP Gauleitung Berlin from November 6 to December 19, 1937, in the Reichstag building".


"
Jack the Ripper
" is the best known
pseudonym
given to an unidentified
serial killer
active in the largely impoverished areas in and around the
Whitechapel
district of
London
in 1888. The name originated in
a letter
by someone claiming to be the murderer that was disseminated in the media. Attacks ascribed to the Ripper typically involved women prostitutes from the slums whose throats were cut prior to abdominal mutilations. Rumours that the murders were connected intensified in September and October 1888, and extremely disturbing letters from a writer or writers purporting to be the murderer were received by media outlets and
Scotland Yard
. Mainly because of the extraordinarily brutal character of the murders, and because of media treatment of the events, the public came increasingly to believe in a single serial killer, Jack the Ripper. Extensive newspaper coverage bestowed widespread and enduring international notoriety on the Ripper. An investigation into a series of brutal
killings in Whitechapel
up to 1891 was unable to connect all the killings conclusively to the murders of 1888, but the legend of Jack the Ripper solidified. As the murders were never solved, the legends surrounding them became a combination of genuine historical research, folklore, and
pseudohistory
. The term "ripperology" was coined to describe the study and analysis of the Ripper cases. There are over one hundred
theories about the Ripper's identity
, and the murders have inspired
multiple works of fiction
. (
Full article...
)
Featured articles
Featured lists
Good articles
Featured pictures
Related projects