Template
:
Did you know nominations/Penrhyn Castle
The following is an archived discussion of the DYK nomination of the article below. Please do not modify this page. Subsequent comments should be made on the appropriate discussion page (such as this nomination's talk page, the article's talk page or Wikipedia talk:Did you know), unless there is consensus to re-open the discussion at this page. No further edits should be made to this page.
The result was: promoted by Cielquiparle (talk) 12:17, 11 March 2023 (UTC)

Penrhyn Castle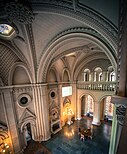 ... that the country house Penrhyn Castle (Grand Hall pictured) is a mock castle? Source: Hussey, Christopher (1988). English Country Houses: Late Georgian. Woodbridge, Suffolk: Antique Collectors' Club. ISBN 978-1-851-49032-5.

ALT1: ... that the Grand Hall of Penrhyn Castle (pictured) resembles a church nave? Source: National Trust (1991). Penrhyn Castle. Swindon, UK: National Trust. OCLC 66698292
Improved to Good Article status by KJP1 (talk). Nominated by Bruxton (talk) at 21:52, 22 February 2023 (UTC). Post-promotion hook changes for this nom will be logged at Template talk:Did you know nominations/Penrhyn Castle; consider watching this nomination, if it is successful, until the hook appears on the Main Page.
GA, in time, long enough, neutral, adequately cited, no apparent copyvios. KJP1, can you please provide the line from Hussey 1988 that backs up Alt0? From Google Books snippet view, I see the term "mock castle" only once, on page 223. Please also provide the line supporting Alt1. --Usernameunique (talk) 00:13, 23 February 2023 (UTC)
@Usernameunique: Thanks for the speedy review. I can add another source to the article- there are also other sources which call it a "mock castle". The links are paywalled so here are archives. 1, 2. Bruxton (talk) 00:41, 23 February 2023 (UTC)

@Usernameunique: I added another source for Mock castles. Bruxton (talk) 02:44, 23 February 2023 (UTC)

Looks good, Alt0 approved. For Alt1 I would want the full line supporting it, but Alt0 is interesting in any event. Two nits. First, you might move up the source you just added to the semicolon, since it supports only the first half of the sentence. Second, some of the sources contain duplicative links (both the title and OCLC link to the same WorldCat entry). --Usernameunique (talk) 02:59, 23 February 2023 (UTC)