Thinzar Shunlei Yi

သဉ္ဇာရွှန်းလဲ့ရည်

Born


14 November 1991
Occupation(s)
Activist, television host
Known for
Anti-Tatmadaw activism, organizing Burmese anti-junta protests, mental health activism, hosting Under 30 Dialogue and organizing the #Sisters2Sisters campaign
Thinzar Shunlei Yi (Burmese: သဉ္ဇာရွှန်းလဲ့ရည်; born 14 November 1991) is a Burmese pro-democracy activist and television host. Following the 2021 Burmese coup d'état, she helped organize mass protests against the Tatmadaw (Myanmar's military). Prior to the coup d'état, Thinzar Shunlei Yi was politically active in executive positions of several youth organizations, and was a television host on Under 30 Dialogue, a youth-oriented television programme. She was charged in 2018 for unlawful protest against the Rohingya genocide, and was convicted in 2020. After organizing protests against the Tatmadaw in the wake of the coup d'état, she fled to the jungle and briefly joined an armed rebel group. She lives in exile in Thailand as of 2022, and runs the #Sisters2Sisters anti-wartime sexual violence campaign. She has received the Magnitzky Human Rights Award, and further honors from Women of the Future, the Obama Foundation, and the US Department of State.
Early life
[
edit
]
Thinzar Shunlei Yi was born on 14 November 1991 in Sagaing, Myanmar, to a Kachin Christian mother and a Burmese Buddhist veteran father.[1][2][3] She is the eldest of three children.[3][4] Being the daughter of a military family, she spent the first sixteen years of her life on military compounds.[5] Receiving most of her education from military high schools and Bamar Buddhist institutes, she was supportive of the Tatmadaw as a child.[6][5][4][7] She moved every two years, living in Rakhine State and Mon State, among others, and finally settled in Yangon around 2010.[3] As a teenager, she was sexually assaulted by a tutor. She experienced clinical depression, and attributed the incident to karma for her actions in a past life at the time.[8] She attended university in Yangon. During one of her presentations on voter education, she was forced off stage by a teacher; this incident would inspire her later political activism.[9] She also worked as a teacher.[10]
Political activism
[
edit
]
Before 2021
[
edit
]
In Yangon, Thinzar Shunlei Yi underwent an ideological change.[3] She grew less supportive of the military after she visited several open forums at the local American Center, taking Aung San Suu Kyi as a role model.[3][11] She first became politically active in 2012, when she co-organized a peace march on the International Day of Peace.[12] She eventually became the first female national coordinator for the National Youth Congress, and the president of the Yangon Youth Network.[13][14] In 2014, she co-organized the ASEAN Youth Forum, and a International Youth Day celebration, which focused on mental health awareness.[15][16] During this time, she was frequently harassed online, and was doxed on pornographic sites.[13][17] In 2017, she co-founded and began hosting Under 30 Dialogue, a political youth-oriented television programme on Mizzima TV.[18][11] Sensitive topics such as the Rohingya genocide were often discussed.[2] As a result, the military often attempted to prevent journalists from interviewing her.[2] Mizzima TV's license was revoked by the military in the wake of the 2021 coup, and the programme's status post-coup is unclear.[19][18] Following national elections in 2015, Suu Kyi's party, the National League for Democracy, came into power.[9] In May 2018, Thinzar Shunlei Yi, along with 16 other activists, including poet Maung Saung Kha, were charged with unlawful protest for organizing solidarity protests for internally displaced persons in Kachin State and against the Rohingya genocide.[11][20][12] After a two year long trial, they were convicted in June 2020.[12][20] Given the choice between paying a K5,000 fine or staying in jail for a week, all 17 activists chose the former.[20] Thinzar Shunlei Yi experienced severe disillusionment with Suu Kyi for her inaction during the ethnic cleansing.[11][4]
Aung San Suu Kyi is an accomplice to the Rohingya genocide, and her influence in the country is too much, beyond imagination. She's beyond a national leader. She's become more like a goddess. We need a new leadership for the younger generation.
—Thinzar Shunlei Yi (2021)[4]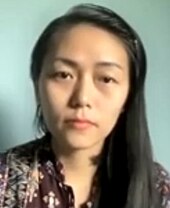 2021–present: Post-coup d'etat
[
edit
]
On 1 February 2021, General Min Aung Hlaing deposed the democratically elected Suu Kyi in a coup d'état. Thinzar Shunlei Yi, who was residing with her parents in Yangon at the time,[2] immediately went into hiding to avoid arrest,[21][2] with a warrant being announced in March or on 20 April.[12][22][23] She attended and organized several protests during this period.[17][9][19][24] Frequent doxing by pro-junta accounts posed a significant security risk, so she often switched hiding places in the Yangon region.[2][13] Several of her friends were abducted, tortured and killed.[25][26] In May, she testified via video link before the Foreign Affairs Select Committee of the British House of Commons about the state of Myanmar under the military junta.[27] After a month and a half of hiding around Yangon, she took refuge in the dense Burmese jungle, joined a rebel group, and trained in the usage of firearms.[2] When she realized that she did not want to kill, she left the rebel training camp after a month of training and took refuge in Thailand in mid-2022.[2]
She refused to disclose her exact whereabouts as of January 2022, for safety reasons.[2] She is a frequent contributor on Western news outlets such as CNN and The Australian,[2] and published an autobiography with a French journalist in 2022.[2][18] In exile, she has been running the #Sisters2Sisters campaign since mid-2021.[28] It aims to raise awareness about sexual violence perpetrated by the military junta.[12] In 2023, in collaboration with Myanmar Witness, #Sisters2Sisters analysed over a million posts from 100 pro- and anti-regime Telegram accounts and discovered that abusive language against women increased eightfold following the 2021 coup d'état.[13]
Awards and honours
[
edit
]
In 2016, Thinzar Shunlei Yi won an Emerging Young Leader Award from the US Department of State for her organization of the ASEAN Youth Forum and International Youth Day celebrations, along with her mental health activism.[15][18][29] Three years later, she won in the Media & Communications category of the Women of the Future Awards Southeast Asia.[30][12] That same year, she became an inaugural Obama Foundation Leader for Asia Pacific.[12][31] Post coup d'état, she was a awarded a Magnitsky Human Rights Award for Outstanding Young Activist for her advocacy for internally displaced persons in Kachin State, her organization of peace marches on the International Day of Peace, and her establishment of the #Sisters2Sisters campaign.[12][18]
References
[
edit
]
External links
[
edit
]