User
:
DexDor/Categorization of award recipients
| | |
| --- | --- |
| | This page in a nutshell: Categorizing articles by what awards the subject of the article has received is generally a bad way to categorize. |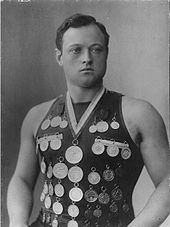 Background - categorization in Wikipedia
[
edit
]
A Wikipedia article can contain hundreds of pieces of information - e.g. an article about an actor may list previous jobs, films he has appeared in, personal relationships etc. In theory, each of these could be a characteristic to categorize by. However, that sort of categorization could cause articles to be in hundreds of categories and require lots of maintenance (on both the articles and the huge category trees that would result). Instead, Wikipedia categorization aims to categorize articles only by defining characteristics of their topic. So, for example, there should be no "Category:Actors in Jurassic Park" (see WP:PERFCAT); normal wikilinks (e.g. between Jeff Goldblum and Jurassic Park (film)) are sufficient. Of the (possibly hundreds of) facts in an article only a few should be used for categorization.
"There are FAR too many awards categories. They've proliferated and metastasized to the point that on some articles the category listings have been swamped by such categories. 80 or 90 percent of them should be deleted, IMHO." (User:Anomalous+0 at a CFD in 2019)
Where we are
[
edit
]
As of April 2013, Category:Award winners and other categories[1] contain many articles about people, organisations and objects on the basis that the person/organisation/object has received an award. An award could be anything from appearing in a magazine's list of "Best New Products" to an internationally recognised award such as a Nobel Prize.
WP:DEFINING says "One of the central goals of the categorization system is to categorize articles by their defining characteristics", but award categories often contain articles that don't even mention the award.[2] This can occur with other categories, but is particularly prevalent with awards. Sometimes even generic things like blankets are given awards.[3] Often for the person/thing receiving the award it is so irrelevant/trivial that it's not mentioned in the article (and certainly not in the lead) and hence the article shouldn't be in the category. Consider an article like Eiffel Tower - its WP:DEFINING characteristics (the things one expects to see in the lead) are being metal, a tower, a visitor attraction, in Paris etc; being a "Work designated as Historic Civil Engineering Landmark by the American Society of Civil Engineers" is not a defining characteristic (in fact, it's not even mentioned in the article).
Many award recipients categories have been deleted[4] and this type of category is covered by a specific section of the overcategorization guidelines (WP:OC#AWARD). However, some award recipients categories have survived CFD/DRV - e.g. Category:National Collegiate Basketball Hall of Fame inductees (albeit partly for procedural reasons).[5]
Deficiencies with categorizing by awards received
[
edit
]
Some of the deficiencies of this type of categorization are:
It can cause an article to be a member of a category that it should not be a member of - e.g. an article about a Danish person under a category for Australian people.[6] Sometimes the scope of an award changes - e.g. initially it's awarded to people from one country (and a WP category is created on that basis), but later it's awarded to people from other countries or to organisations.
It can cause category clutter on articles (e.g. an article about a sportsman in 3 "hall of fame inductees" categories and in dozens of other categories)[7] or a person categorized for over 60 awards.[8] This applies especially because the names of some awards categories are very long (e.g. "Category:Pritzker Military Library Literature Award Winner for Lifetime Achievement in Military Writing"[9] or "Category:Recipients of the Conrad Schlumberger Award of the European Association of Geoscientists and Engineers"[10]).
In many cases the article in the category doesn't mention the award.[11][12] A particular anomaly arises where the list of awards received is split off from the article about the person.[13]
Some awards are given to people/things that do not currently, and may never, have a WP article - hence a list article can be more complete than a category.[14]
Awards recipients categories are inevitably non-diffusing (even if they don't state this explicitly) - i.e. if an article is placed in an "Award-winning fooers" category the article should also be directly in the "Fooers" category (or in a diffusing sub-category of it). Non-diffusing categories are an exception to the normal categorization rules that should be minimised.
Sometimes the award recipient is a group of people or a geographical area that doesn't exactly match the closest corresponding Wikipedia article.[15][16]
Categorizing things by what awards they have received leads to articles such as Ball, Bicycle, Blanket,[17] Bird, Butterfly and Bombay Dockyard[18] being in such categories.
Categories are intended to group together pages on similar subjects,[19] but an award category can group together such articles as Brahmanand Swami, Louis Braille, Charlie Chaplin, Marie Curie, Cyrus the Great, Charles Darwin, Albert Einstein, Francis of Assisi, Yuri Gagarin, Rajiv Gandhi, Helen Keller, Abraham Lincoln, Guglielmo Marconi, Maria Montessori, Louis Mountbatten, Franz Schubert.[20]
The existence of such categories is sometimes (mis-)used - e.g. "I would also add that we appear to have an entire category devoted to recepients of the Silver Star: Category:Recipients of the Silver Star" [21]
There are a few awards (e.g. Nobel Prizes) where some of these deficiencies don't apply - i.e. the recipient is always sufficiently notable to have a WP article and the award is sufficiently important to be mentioned in the article's lead/text.
WP:CLN says that categories, lists and navboxes can co-exist (i.e. having a list article does not preclude also having a category), but only when the guidelines for categorization are also followed.[22]
Examples of awards mentioned in an article
[
edit
]
Dr Griggs was made a Member of the Order of Australia (AM) in the 2003 Queen's Birthday Honours for service to medicine, particularly through trauma, emergency and care management and education, and critical care and retrieval and in support of the Australian Defence Force.
In 2006, Dr Griggs was the recipient of the award of Australian of the Year for South Australia and was a national finalist.
In 2006, Dr Griggs was awarded the Keys to the City of Adelaide.
Dr Griggs was awarded the Ambulance Service Medal in the 2009 Queen's Birthday Honours.
In 2009, Dr Griggs was named the South Australian of the Year for 2009.
In 2010, Dr Griggs was chosen to appear on the cover of the 2010/2011 Adelaide White Pages Telephone Directory under the theme "Courageous Australians" as a result of a rescue in which he was involved during 1994.
From Bill Griggs#Honours (as of May 2013)
This extract from a Wikipedia article shows the sort of awards that some articles mention. We would not want the article to be in a category for each of these.
Examples of other articles about people with lots of awards include Wojciech Jaruzelski and Konstantin Rokossovsky.
See also
[
edit
]