Welcome to my talk page. Please adhere to the talk page guidelines and particularly the following:


Please post your new topic at the bottom of this page.
Please sign and date your entry by inserting "~~~~" at the end.
Please specify a descriptive "Subject/headline" for a new topic and separate subtopics by ===heading=== lines, if needed.
Please indent your posts with one more ":" than what you are replying to, i.e. begin with ":" if replying to an existing topic and "::" if replying to a reply.
I will generally respond here to comments that are posted here, rather than replying via your Talk page (or the article Talk page, if you are writing to me here about an article), so you may want to watch this page until you are responded to, or specifically let me know where you'd prefer the reply.

⇒ Start a new Talk topic.
Archives:

2008, 2009, 2010, 2011, 2012, 2013, 2014, 2015, 2016, 2017, 2018, 2019, 2020, 2021, 2022, 2023
Hello Joe Roe,
Much has happened since the last newsletter over two months ago. The open letter finished with 444 signatures. The letter was sent to several dozen people at the WMF, and we have heard that it is being discussed but there has been no official reply. A related article appears in the current issue of The Signpost. If you haven't seen it, you should, including the readers' comment section.
Awards: Barnstars were given for the past several years (thanks to MPGuy2824), and we are now all caught up. The 2021 cup went to John B123 for leading with 26,525 article reviews during 2021. To encourage moderate activity, a new "Iron" level barnstar is awarded annually for reviewing 360 articles ("one-a-day"), and 100 reviews earns the "Standard" NPP barnstar. About 90 reviewers received barnstars for each of the years 2018 to 2021 (including the new awards that were given retroactively). All awards issued for every year are listed on the Awards page. Check out the new Hall of Fame also.
Software news: Novem Linguae and MPGuy2824 have connected with WMF developers who can review and approve patches, so they have been able to fix some bugs, and make other improvements to the Page Curation software. You can see everything that has been fixed recently here. The reviewer report has also been improved.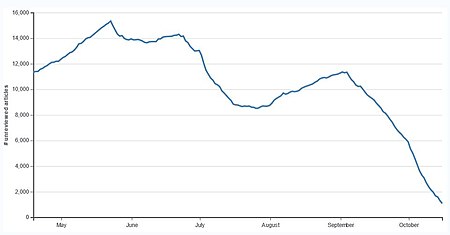 Suggestions:
There is much enthusiasm over the low backlog, but remember that the "quality and depth of patrolling are more important than speed".
Reminder: an article should not be tagged for any kind of deletion for a minimum of 15 minutes after creation and it is often appropriate to wait an hour or more. (from the NPP tutorial)
Reviewers should focus their effort where it can do the most good, reviewing articles. Other clean-up tasks that don't require advanced permissions can be left to other editors that routinely improve articles in these ways (creating Talk Pages, specifying projects and ratings, adding categories, etc.) Let's rely on others when it makes the most sense. On the other hand, if you enjoy doing these tasks while reviewing and it keeps you engaged with NPP (or are guiding a newcomer), then by all means continue.
This user script puts a link to the feed in your top toolbar.
Backlog:
Saving the best for last: From a July low of 8,500, the backlog climbed back to 11,000 in August and then reversed in September dropping to below 6,000 and continued falling with the October backlog drive to under 1,000, a level not seen in over four years. Keep in mind that there are 2,000 new articles every week, so the number of reviews is far higher than the backlog reduction. To keep the backlog under a thousand, we have to keep reviewing at about half the recent rate!
Firstly, I highly appreciate and thank your excellent and hard work in reviewing PERM/NPP, which is often backlogged for weeks. On my watchlist I saw this request. I previously waffled between whether I should comment but decided not to. I will note that my direct interactions with that editor have been positive. Their AfD match rate is only <60%, which I don't know how it's stellar. In the past they've frequently removed BLPPRODs incorrectly (User talk:Ortizesp#BLPPROD notice), but other editors posted the warnings before I noticed these, and I also recalled this but decided not to comment then as the AfD in question was contentious. I am not questioning your overall judgement, but given your high standards with granting NPP/PERM, I am slightly surprised that you granted a full perm and recommended them to RfA. Again, I understand that PERM is a highly difficult and time-consuming area IMO as a non-admin and I highly respect and commend your work there, and this isn't a criticism or anything.
Also, thanks for expanding the history section on WP:NPP- maybe they could go in a separate page instead of being in the tutorial, but these info on the older history very interesting to me. Thanks. VickKiang (talk) 22:02, 12 September 2023 (UTC)Reply[reply]
Please could you restore this article per your offer at the AFD? There seem to be a fair few book and article coverages with reasonable suggestion that GNG is met. The OP presented no evidence at all, plus this was a unanimous keep last time it was nominated in 2006, so I don't think this was the correct outcome. Cheers  — Amakuru (talk) 10:26, 21 September 2023 (UTC)Reply[reply]
Could you review your granting of AfC reviewer perms to this editor, please. The three reviews of academics I've checked are completely wrong. Cheers, Espresso Addict (talk) 23:47, 21 September 2023 (UTC)Reply[reply]
I have said I will avoid reviewing academics until I understand the guidelines of them better, and also that I was hesitant to accept those ones because the submitter was being paid to write them.

-- NotC

hariza

rd

🗨

03:23, 22 September 2023 (UTC)
@Espresso Addict: I granted NotCharizard new page reviewer. They were an AfC reviewer (which doesn't require a PERM, just an entry on Wikipedia:WikiProject_Articles_for_creation/Participants) before that and would continue to be even if I revoked NPR. In any case, their NPR right is scheduled to expire in a couple of weeks so it'll be reviewed in due course.
@Notcharizard: Topics covered by SNGs are tricky. I think it's a good idea not to review articles or drafts in those areas until you're comfortable with the relevant guideline. – Joe (talk) 06:10, 22 September 2023 (UTC)
MediaWiki message delivery (talk) 16:45, 22 September 2023 (UTC)Reply[reply]
I wanted to let you know why I reverted 11 edits at Genocides in history (before World War I). These edits were made by a block-evading long-term abuser known as the Bad copyediting IP. For more information see User:Nythar/User tracking#Bad copyediting IP. I normally revert their edits on sight, and, as can be seen in the diffs you provided, they have a habit of adding excessive numbers wikilinks, in some cases adding dozens of irrelevant "see also" links. Their block evasion is a major factor behind my reverts, and their copyediting, more often than not, negatively affects articles. I also don't want to spend my time salvaging their constructive edits (which are rare) from a sea of unconstructive ones. I don't often report them at AIV because very few (if any) admins are aware of their editing habits, and to have them successfully blocked I need to present a large amount of evidence in every report. Perhaps in the future I'll state the reason I'm reverting their edits in my edit summaries instead of just using rollback. Regards, Nythar (💬-🍀) 12:45, 24 September 2023 (UTC)Reply[reply]
Thanks for your edits to Wikipedia:Village pump (idea lab).
Wait what idea lab almost never has topics closed? Aasim - Herrscher of Wikis ❄️ 04:34, 27 September 2023 (UTC)Reply[reply]
Hi, I thought I'd take the time to respond to this comment since you are an experienced editor. Usually it's the managers of the garage bands complaining about articles being declined :) If you look at the decline notice, it does not state that the "entire ancient language" is not notable, but rather that "this draft's references do not show that the subject qualifies for a Wikipedia article". To do so, sources are required to be:
in-depth (not just passing mentions about the subject)
reliable
secondary
independent of the subject
The single source provided in the submission I declined (not rejected, which means that the topic is deemed not suitable for Wikipedia at all, with no opportunity to resubmit) in no way meets these requirements. It's misunderstanding the role of volunteer AfC reviewers to expect them to be experts in everything they review. Much as I would like to be knowledgeable in ancient languages, botany, astronomy, crypto entrepreneurs, self-published literature as well as garage bands etc., all I am evaluating is whether the existing references meet the notability guidelines. If the language in question is really notable, and not, for example, a hoax, a maverick researcher's non-notable opinion, then there will be multiple independent sources written about that. It is not for the reviewer to track down these sources, but for those contributing to the draft to do so.
I note that you are have an interest in Women in Red. I focus on reviews in that area as well. The AfC backlog is huge, and submissions can languish for many months before being reviewed, by which time the contributors may have lost motivation. A quick decline is a positive, and provides contributors an opportunity to quickly make the required changes to an improperly-sourced submission.
You are welcome to explore more at Wikipedia:WikiProject Articles for creation. I know you're involved in other areas, but also you're welcome to get involved if you wish - we are under-resourced and would value assistance. While the volume of drivel flung at us can be overwhelming, it's an opportunity to help get notable topics approved, and attract new contributors. Greenman (talk) 16:07, 27 September 2023 (UTC)Reply[reply]
Hi Joe, you recently gave the new page reviewer right to Ortizesp. I recently tried unsuccessfully to chat to this editor about a non-reliable source they had used and noticed that their talk page contained numerous AfD notifications. Yesterday, they added a copyrighted image to an article, which was promptly deleted. I know they've been around the block, but these things suggest that they shouldn't be a new page reviewer. Best, Modussiccandi (talk) 18:48, 27 September 2023 (UTC)Reply[reply]
Hey mate, the single "non-reliable" source is a non-issue. I'm on vacation and would just edit it out, but looking at the "About Us" page on the publication, I think its reliable enough for a passing reference. Also the AFDs are because NFOOTY got deprecated this year, so lots of articles that were once deemed noteable now aren't. I've created thousands of other pages that haven't been deleted. Cheers.Ortizesp (talk) 22:44, 27 September 2023 (UTC)

Hi Modussiccandi. When I review PERM requests I'm not overly concerned by deletion nominations, since those don't indicate the user has made a mistake in assessing the notability of a topic, only that someone else thinks they might have. I look for what the outcome of the AfD was, and XTools shows that a miniscule proportion of Ortizesp's 4,251 created pages have been deleted. That's actually quite impressive given the community's recent decision to tighten standards for biographies football players, mentioned by Ortizesp above.
I'm also not really convinced that a dispute over the reliability of a single source, or a deletion on Commons, is the kind of thing that would usually prompt us to reconsider a user's perms. But of course just because I assigned Ortizesp NPR it doesn't mean I'm the arbiter of whether he keeps it; if you have specific reviewing actions you're concerned about, you might try WP:XRV, otherwise there's ANI for seeking the removal of perms. – Joe (talk) 04:42, 28 September 2023 (UTC)

Fair enough; I am happy to concede the point about the AfDs! The image deletion is an absolute no brainer to me and I think reviewers ought to have a firm handle on that sort of thing. It's hardly encouraging to find such signs of careless editing in a reviewer at first glance. I'll let the matter rest for the time being. Modussiccandi (talk) 07:09, 28 September 2023 (UTC)

@Modussiccandi: Fwiw, I raised a somewhat similar thread not long ago. I had a look at their log and noticed a few obvious mistakes (i.e., this tagging of db-person which was obviously incorrect for a reserve and this PROD which was even flagged as incorrect according to the template added itself as it has had multipled AfD discussions before), though both pages are unsuitable for inclusion, and the patrolling of 3 or 4 articles a minute. Now obviously for articles for politcian/species/populated area stubs and the like this is absolutely fine, or when marking as patrolled for pages created by editors who the reviewer is familiar with and has little/no issues requiring NPP intervention, but it doesn't seem to be the case here so it is not ideal. However, I don't think their error rate is bad (I still make some embarassing errors while reviewing even one year on...) to the extent that their perm should be immediately removed, but it's probably worth keeping an eye on.

VickKiang

(talk)

08:52, 28 September 2023 (UTC)
The Admin's Barnstar
As an admin, you're doing an excellent job on New page patrol and WP:PERM/NPP. Keep up the good work, and don't forget to take care of yourself, mate. Cheers!

𝙳𝚛𝚎𝚊𝚖𝚁𝚒𝚖𝚖𝚎𝚛

𝚍𝚒𝚜𝚌𝚞𝚜𝚜

05:17, 28 September 2023 (UTC)
--Lajmmoore (talk) 10:53, 29 September 2023 (UTC) via MassMessagingReply[reply]
The Yorkshire WikiProject Newsletter
The WikiProject Yorkshire Newsletter
Issue 186 – October 2023


September issue




Got any suggestions?

—

Add them

here




Project News

Thanks to the contributions of our many members and supporters, WP:YORKS has become a leading local British WikiProject in terms of the total number of articles supported (up from 18,772 last month to 18,816 on 29 September 2023). In the area of GAs WP:YORKS at 215 is ahead of WP:GM who have 91. WP:YORKS also has the lead in FAs at 92 while WP:GM has 65 out of a total number of 4,865 articles.


Currently we have seventy five Yorkshire featured articles:

George Calvert, 1st Baron Baltimore • York City F.C. • Joseph Priestley • Stocksbridge Park Steels F.C. • Valley Parade • William Wilberforce • History of Bradford City A.F.C. • Last of the Summer Wine • Ealdred (archbishop of York) • Paulinus of York • Wilfrid • HMS Endeavour • Cosmo Gordon Lang • Thomas of Bayeux • Cottingley Fairies • Wilfred Rhodes • Guy Fawkes • Yorkshire captaincy affair of 1927 • Roy Kilner • George Macaulay • Frederick Delius • Battle of Towton • Halifax Gibbet • Gerard (archbishop of York) • George Hirst • Geoffrey (archbishop of York) • Len Hutton • Hedley Verity • Abe Waddington • Æthelwold ætheling • Preparing for a Fancy Dress Ball • The Combat: Woman Pleading for the Vanquished • The Wrestlers (Etty) • Bootham Crescent • History of York City F.C. (1922–1980) • William Etty • History of York City F.C. (1980–present) • William Sterndale Bennett • Candaules, King of Lydia, Shews his Wife by Stealth to Gyges, One of his Ministers, as She Goes to Bed • The World Before the Flood • Musidora: The Bather 'At the Doubtful Breeze Alarmed' • North Eastern Railway War Memorial • York City War Memorial • Northern England • Albert Pierrepoint • RSPB Dearne Valley Old Moor • Keldholme Priory election dispute • 2018 World Snooker Championship • 2019 World Snooker Championship • Capture of Wakefield • 2017 World Snooker Championship • 2017 EFL Championship play-off Final • 1985 World Snooker Championship • Cardiff City F.C. 2–1 Leeds United F.C. (2002) • 1986 World Snooker Championship • 1988 Football League Second Division play-off Final • 2020 World Snooker Championship • 1984 World Snooker Championship • 1925 FA Cup Final • 2006 Football League Championship play-off Final • Acamptonectes • 1997 Football League First Division play-off Final • 1987 World Snooker Championship • 1989 World Snooker Championship • 2014 World Snooker Championship • 1983 World Snooker Championship • 1988 World Snooker Championship • 2015 World Snooker Championship • 2002 World Snooker Championship • 2021 World Snooker Championship • 1982 World Snooker Championship • 2016 World Snooker Championship • 2022 World Snooker Championship • 1981 World Snooker Championship • 1980 World Snooker Championship

There are also seventeen featured lists:

York City F.C. Clubman of the Year • List of York City F.C. managers • List of York City F.C. players • List of York City F.C. seasons • List of Bradford City A.F.C. seasons • List of York City F.C. records and statistics • List of Leeds United F.C. seasons • List of Scarborough F.C. seasons • List of awards and nominations received by Arctic Monkeys • List of Sites of Special Scientific Interest in Cleveland • List of Hull City A.F.C. seasons • List of churches preserved by the Churches Conservation Trust in Northern England • Sheffield United F.C. league record by opponent • York City F.C. league record by opponent • List of York City F.C. players (25–99 appearances) • List of York City F.C. players (1–24 appearances) • Bootham Crescent • Kate Rusby discography

Thank you and well done to all those who contributed.




Article Activity

Joe Johnson (snooker player) promoted to GA on 31 August
Chelsea F.C. 2–4 Bradford City A.F.C. not promoted to GA on 25 September





Member News

There are 97 members of WikiProject Yorkshire! The membership is unchanged since the September newsletter.




Assessment
Assess and review

Yorkshire articles by quality and importance
Quality
Importance
Top
High
Mid
Low
NA
Total
FA
2
1
14
58
75
FL
1
16
17
GA
3
9
36
167
215
B
8
46
122
315
491
C
3
94
287
1,360
1,744
Start
2
253
1,122
8,143
9,520
Stub
18
332
5,712
6,062
List
4
12
677
693
Category
3,609
3,609
Disambig
26
26
File
19
19
Portal
95
95
Project
218
218
Redirect
60
1,224
1,284
Template
1
8
437
109
555
Other
11
11
Assessed
18
426
1,934
16,945
5,311
24,634
Total
18
426
1,934
16,945
5,311
24,634
WikiWork factors (

?

)
ω =

92,833

Ω = 5.13

As of 28 September 2023, we have assessed 100% of all articles with a project banner. (Some new and additional article talk pages may still require a banner however)

Thanks

A very big Thank you to all the editors who labour away quietly and help make this WikiProject what it is; no edit goes unnoticed.

To the football and rugby editors who have done sterling work in keeping abreast of the top clubs.

To all the WikiProject Yorkshire editors who have been busy on vandal patrol at watchlist.

---

Written by Keith D • Template by Jza84 | Single-Page View

---

Would you like to write the next newsletter for WP:YORKS? Please nominate yourself at WT:YORKS! New editors are always welcome!

---

Aims

After discussion at Wikipedia talk:WikiProject Yorkshire in April 2008.

Specific aims for the project are:-

To complete tagging and assessment of all Yorkshire related articles (See below)
To recruit more active editors (See Member News)
To bring our top level article Yorkshire up to Featured article status
To bring all other top priority articles (currently 15 with 2 at FA) to at least Good article status
To set up a weekly or monthly selected article improvement drive (See this month's feature below)
To produce a regular news letter for circulation to members

and apropos of the above a 2010 New Year article improvement drive/collaboration is being organised.




Priority Articles

The top priority articles that have been identified to date are as follows -

The number has been kept deliberately low to give us a fighting chance of improving them to at least GA status, also so we can concentrate our efforts on these first.




Article counts

The drop in the article count last month was caused by a BOT converting the assesments over for pages that had become redirects. Please remember that when you convert an existing article into a redirect to change the class rating to |class=Redir and remove the importance rating from the project banner on the talk page.




WikiProject Yorkshire Collaboration of the Month Project

The October 2023 articles selected below are an editor choice as there were no nominations on the project talk page.

Please nominate future articles for improvement at Wikipedia talk:WikiProject Yorkshire.




Please bear in mind...

The project is subscribed to a clean-up listing which lists articles tagged with various clean-up tags that need attention. The listing is refreshed by a bot on a regular basis.

Monitoring is essential
Use the watchlist to keep an eye on changes to the project's articles so that vandalism and spamming can be removed as quickly as possible.

Moves
Please be careful when performing articles moves and ensure that you also move all the talk sub-pages and update any image fair use rational. Otherwise the archives, to-do lists, assessment comments and GA reviews get lost and the image may be deleted as it has an incorrect FUR. You will also have to check that the Commons link is set correctly.




Comments, questions and suggestions about this, or any, issue of the newsletter are always welcome and can be made by pressing the feedback button below...
13:10, 1 October 2023 (UTC)
They say that they understand which pages that qualify for deletion and which are fine for wikipedia, yet they nominated a state highway article for deletion when WP:GEOROAD exists. Not sure giving them autopatrolled was the right call. LilianaUwU (talk / contributions) 15:01, 2 October 2023 (UTC)Reply[reply]