Wikipedia
:
WikiProject Puerto Rico
This is a WikiProject, an area for focused collaboration among Wikipedians. New participants are welcome; please feel free to participate!

---
WikiProject Puerto Rico is a WikiProject that aims primarily to collaborate on the articles related to Puerto Rico. This project was formed on (2006-01-11) January 11, 2006 (age 17).
Articles for deletion
Proposed deletions
Good article nominees
Requested moves
Articles for creation
Updated daily by
AAlertBot
—
Discuss?
/
Report bug?
/
Request feature?
Click to watch
(Subscribe via

RSS

Atom
) ·
Find Article Alerts for other topics!

A list of articles needing cleanup associated with this project is available. See also the tool's wiki page and the index of WikiProjects.
Cleanup listing
[
edit
]
See box for listing:
The Standards page has information on how to manage specifics on Puerto Rico articles.
Active participants
[
edit
]
To join WikiProject Puerto Rico, add your username to the following template.
Former participants
[
edit
]
Thank you for your help! Please move your username back to the active list when you can participate again.
Participant identification
[
edit
]
WikiProject Puerto Rico participants should place one of the following lines of Wikitext on their user page to add it to Category:WikiProject Puerto Rico participants.
Barnstar of National Merit
[
edit
]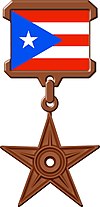 To be awarded to dedicated users whose contributions and dedication to articles regarding Puerto Rico are above and beyond from what is normally expected and have helped provide a positive image of the island.
"Recipient should have at least one featured article about Puerto Rico" or
"Has created a significant amount of Puerto Rico related articles".
Related WikiProjects
[
edit
]
This month (June 2023) I will begin to review the names which have been added to the "List of Puerto Ricans". Those unknown names which have been added without following the proper rules of inclusion will be removed. As stated by the "rules of inclusion" all the names added must be of notable people and must have a reliable source which states their Puerto Rican heritage. Any name that is removed can be added once more only if a proper source is included which indicates that said person is in fact notable and Puerto Rican or of Puerto Rican heritage. Tony the Marine (talk) 17:03, 1 June 2023 (UTC)Reply[reply]
Thanks @Marine 69-71:. Cheers! The Eloquent Peasant (talk) 16:41, 23 September 2023 (UTC)