This article

needs additional citations for verification

.

(

August 2017

)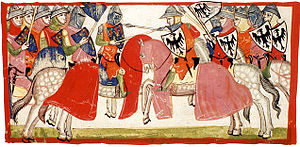 Year 1266 (MCCLXVI) was a common year starting on Friday (link will display the full calendar) of the Julian calendar.
By place
[
edit
]
England
[
edit
]
July 23 – Siege of Safed: Mamluk forces capture the castle of Safed, defended by a garrison of 1,700 men (including some 500 Knights Templar), after a 6-week siege. Sultan Baibars promises safe conduct but when the Christians and Templars are on their way towards Acre, they are seized and beheaded.[6]
August 24 – Battle of Mari: Mamluk forces (some 30,000 men) led by Baibars defeat the Armenian army in Cilicia, in retaliation for the support of the Mongol invasion in Syria. He expands his domain, capturing the city of Byblos (modern Lebanon) and the important castle of Toron from the Crusader States.
October 28 – A Crusader advance guard is ambushed by the Egyptian garrison of Safed, while local Arabs attack the Crusader camp. The 13-year-old Hugh II, ruler of Cyprus, is advised to retire and withdraw with heavy losses. Meanwhile, Baibars campaigns in Galilee and leads a lightning raid to Tripoli.[7]
America
[
edit
]
By topic
[
edit
]
Economics
[
edit
]
Religion
[
edit
]
References
[
edit
]