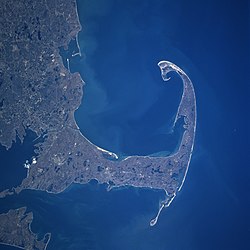 1602 (MDCII) was a common year starting on Tuesday of the Gregorian calendar and a common year starting on Friday of the Julian calendar, the 1602nd year of the Common Era (CE) and Anno Domini (AD) designations, the 602nd year of the 2nd millennium, the 2nd year of the 17th century, and the 3rd year of the 1600s decade. As of the start of 1602, the Gregorian calendar was 10 days ahead of the Julian calendar, which remained in localized use until 1923.
January–March
[
edit
]
April–June
[
edit
]
April 20 – The Danish–Icelandic Trade Monopoly is established.
May 25 (May 15 Old Style) – English explorer Bartholomew Gosnold, sailing in the Concord, becomes the first European at Cape Cod.[2]
June 2 – Dutch explorer Joris van Spilbergen lands on the eastern side of the island of Sri Lanka, at Santhamuruthu, and begins the process of attempting to establish a relationship with the rulers of the Kingdom of Kandy.[3]
June 3 – Anglo-Spanish War (1585): The Battle of Sesimbra Bay is fought off of the coast of Portugal and is won by five galleons of the English Royal Navy over a larger force of Spanish Navy ships.[4]
June 5 – James Lancaster's East India Company fleet arrives at Achin (modern-day Aceh), Sumatra to deal with the local ruler. Having defeated Portugal's ally, the ruler is happy to do business, and Lancaster seizes a large Portuguese galleon and loots it.
June 17 – An expedition of 14 Dutch Republic ships, commanded by Admiral Wybrand van Warwijck, departs from Texel on its expedition to the East Indies.
June 18 – Nine Years' War (Ireland): Dunboy Castle in Ireland is taken by the English after 143 Irish defenders had withstood an 11-day siege by more than 4,000 English soldiers under the command of Sir George Carew. Of the 143 soldiers, who had been loyal to Donal Cam O'Sullivan Beare, 85 are killed in the siege, and the 58 survivors are hanged after the English victory.[5]
July–September
[
edit
]
October–December
[
edit
]
Ongoing
[
edit
]
Date unknown
[
edit
]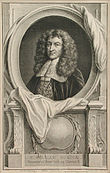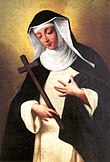 January–March
[
edit
]
April–June
[
edit
]
July–September
[
edit
]
October–December
[
edit
]
Date unknown
[
edit
]
Probable
[
edit
]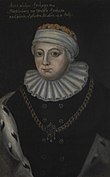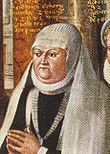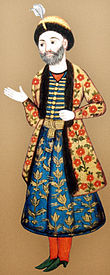 January–March
[
edit
]
April–June
[
edit
]
July–September
[
edit
]
October–December
[
edit
]
October – Thomas Morley, English composer (b. 1557)[12]
October 1 – Hernando de Cabezón, Spanish composer and organist (b. 1541)
October 7 – Thomas Schweicker, German artist (b. 1540)
October 13 – Franciscus Junius, French theologian (b. 1545)
October 20 – Walter Leveson, English Elizabethan Member of Parliament, Shropshire landowner (b. 1550)
October 21
October 28 – John, Prince of Schleswig-Holstein, youngest son of Frederick II of Denmark and Norway (b. 1583)
October 30 – Jean-Jacques Boissard, French antiquary and Latin poet (b. 1528)[13]
October 31 – Dominic Collins, Irish Jesuit lay brother and martyr (b. 1566)
November 23 – Agnes of Solms-Laubach, Landgravine of Hesse-Kassel (b. 1578)
November 29 – Anthony Holborne, English composer (b. c. 1545)
December 1 – Kobayakawa Hideaki, Japanese samurai and warlord (b. 1577)
December 29 – Jacopo Corsi, Italian composer (b. 1561)
Date unknown
[
edit
]
References
[
edit
]