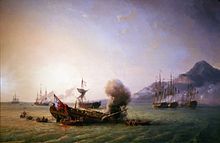 1810 (MDCCCX) was a common year starting on Monday of the Gregorian calendar and a common year starting on Saturday of the Julian calendar, the 1810th year of the Common Era (CE) and Anno Domini (AD) designations, the 810th year of the 2nd millennium, the 10th year of the 19th century, and the 1st year of the 1810s decade. As of the start of 1810, the Gregorian calendar was 12 days ahead of the Julian calendar, which remained in localized use until 1923.
January–March
[
edit
]
April–June
[
edit
]
April – Kaumualii receives an assurance of the continued independence of the Kingdom of Hawaii.[5]
April 2 - Napoleon Bonaparte marries Marie Louise of Austria, Duchess of Parma, in person, in Paris.[6]
April 19 – Venezuela achieves home rule: Vicente Emparán, Governor of the Captaincy General of Venezuela, is removed by the people of Caracas, and Supreme Junta is installed. Venezuela is the first South American state to proclaim independence from Spain.
May 1 – Macon's Bill Number 2 becomes law in the United States, intending to motivate Britain and France to stop seizing American vessels during the Napoleonic Wars.
May 3 – Lord Byron swims across the Hellespont in Turkey.[7]
May 10 – Rev. Henry Duncan opens the world's first commercial savings bank, in Ruthwell, Scotland.[8]
May 16 – Johann Wolfgang von Goethe publishes his book Zur Farbenlehre (Theory of Colours).[9]
May 18–25 – May Revolution: Armed citizens of Buenos Aires expel the Viceroy and establish a provincial government for Argentina (the Primera Junta). Baltasar Hidalgo de Cisneros is removed.
June 7 – Argentina's new junta publishes the country's first newspaper, the Gazeta de Buenos-Ayres, edited by Mariano Moreno.
June 23 – John Jacob Astor forms the Pacific Fur Company.
June – Nicolas Appert publishes L'art de conserver pendant plusieurs années toutes les substances animales ou végétales, the first description of modern food preservation using airtight containers.
July–September
[
edit
]
October–December
[
edit
]
Date unknown
[
edit
]
January–June
[
edit
]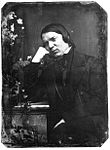 January 3 – Antoine Thomson d'Abbadie, Irish-French geographer (d. 1897)
January 13 – Ernestine Rose, Polish-born feminist (d. 1892)
January 29 – Ernst Kummer, German mathematician (d. 1893)
February 5 – Ole Bull, Norwegian violinist (d. 1880)[17]
February 8 – Eliphas Levi, French writer (d. 1875)
March 1[18] – Frédéric Chopin, Polish composer, pianist (d. 1849)[19]
March 2 – Pope Leo XIII (b. Vincenzo Gioacchino Raffaele Luigi Pecci) (d. 1903)
March 10 – Samuel Ferguson, Northern Irish lawyer, poet and artist (d. 1886)[20]
March 28 – Alexandre Herculano, Portuguese writer and historian (d. 1877)[21]
April 8 – Hégésippe Moreau, French writer and poet (d. 1838)
May 2 – Hans Christian Lumbye, Danish composer (d. 1874)[22]
May 23 – Margaret Fuller, American journalist, literary critic and feminist (d. 1850)[23]
May 24 – Abraham Geiger, German rabbi, founder of European Reform Judaism (d. 1874)
May 31 – Horatio Seymour, 18th Governor of New York, 1868 Democratic Party Presidential Nominee (d. 1886)
June 8 – Robert Schumann, German composer and pianist (d. 1856)[24]
June 9 – Otto Nicolai, German composer and conductor (d. 1849)[25]
July–December
[
edit
]
July 5 – P. T. Barnum, American showman (d. 1891)[26]
July 20 – Leonhard Graf von Blumenthal, Prussian field marshal (d. 1900)[27]
July 21 – Henri Victor Regnault, French chemist, physicist (d. 1878)
August 4 – Maurice de Guérin, French poet (d. 1839)
August 10 – Camillo Benso, Count of Cavour, 1st Prime Minister of Italy (d. 1861)
August 24 – Theodore Parker, American preacher, Transcendentalist, and abolitionist (d. 1860)
August 29 – Juan Bautista Alberdi, Argentinian politician, writer and Constitution main promoter (d. 1884)
September 2 – William Seymour Tyler, American educator, historian (d. 1897)
September 11 – James Pollock, American politician (d. 1890)
September 29 – Elizabeth Gaskell, British novelist (d. 1865)
October 8 – James W. Marshall, American contractor, builder of Sutter's Mill (d. 1885)
November 2 – Andrew A. Humphreys, American general, civil engineer (d. 1883)
November 3 – Yisroel Salanter, father of the Musar movement in Orthodox Judaism (d. 1883)
November 8 – Pierre Bosquet, French general, Marshal of France (d. 1861)
November 26 – William Armstrong, 1st Baron Armstrong, English engineer, inventor of the Hydraulic accumulator (d. 1900)
December 7 – Theodor Schwann, German physiologist (d. 1882)
December 11 – Alfred de Musset, French poet (d. 1857)
December 24 – Wilhelm Marstrand, Danish painter (d. 1873)
Date unknown
[
edit
]
January–June
[
edit
]

July–December
[
edit
]
July 6 – Andrianampoinimerina, ruler of Madagascar (b. 1745)[32]
July 19 – Louise of Mecklenburg-Strelitz, Queen of Prussia (b. 1776)
August 12 – Étienne Louis Geoffroy, French pharmacist, entomologist (b. 1725)
August 26 – Santiago de Liniers, 1st Count of Buenos Aires, French officer in Spanish colonial military service (executed) (b. 1753)
September 13 – William Cushing, Associate Justice of the Supreme Court of the United States (b. 1732)
September 17 – Ulla von Höpken, Swedish courtier, influential socialite (b. 1749)
October 15 – Alfred Moore, American judge (b. 1755)
November 2 – Princess Amelia of the United Kingdom, Member of the British Royal Family (b. 1783)
November 11
December 2 – Philipp Otto Runge, German painter (b. 1777)
December 5 – Kumara Swamy Desikar, Indian philosopher (b. 1711)
References
[
edit
]