Caenagnathasia ('recent jaw from Asia') is a small caenagnathid oviraptorosaurian theropod from the Late Cretaceous of Uzbekistan.
Discovery
[
edit
]
The type species Caenagnathasia martinsoni was named and described in 1994 by Philip J. Currie, Stephen Godfrey and Lev Nesov. The generic name is a combination of a reference to the species' placement in the Caenagnathidae, with Asia, the continent of its provenance. The specific name honours Gerbert Genrikhovich Martinson. The genus is based on holotype N 401/12457, a pair of fused dentaries of the lower jaws. The specimen was found near Dzharakuduk in layers of the Bissekty Formation, dating to the Turonian-Coniacian, around 90 mya, making it the oldest known caenagnathoid. A second specimen was referred to the species, N 402/12457, a right dentary of a slightly smaller individual. Both individuals were adult.[1] In 2015, new material of Caenagnathasia was described. From the same site as the holotype, the material includes various vertebrae, a dentary, and a femur.[2]
Description
[
edit
]
Caenagnathasia is the smallest known oviraptorosaur and one of the smallest non-avian dinosaurs. The jaw fragments are only a few centimetres long and total skull length has been estimated at 3 inches (7.6 cm). A 2010 estimate by Gregory S. Paul gave it a length of 2 feet (0.61 m) and a weight of 3 pounds (1.4 kg).[3] Caenagnathasia would presumably have resembled other oviraptorosaurs, which were feathered, bird-like dinosaurs with beaked skulls, long necks, and long limbs. Recent studies suggest it was one of the more primitive members of the Caenagnathidae.
Classification
[
edit
]
Caenagnathasia was originally assigned to the Caenagnathidae. It was even included in the definition of that clade published by Hans-Dieter Sues.[4] It has been suggested however, that it might have a more basal position in the Oviraptorosauria, outside of the Caenagnathoidea.[5] In 2015 after the description of new material, it was found that Caenagnathasia could confidently be referred to Caenagnathidae.[2]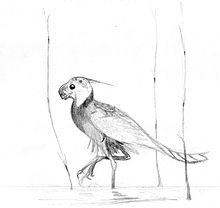 The below cladogram is based on that resolved in the description of Anzu.[6]
See also
[
edit
]
References
[
edit
]
External links
[
edit
]