Help
:
Introduction to navigating Wikipedia/2
Wikipedia's pages are divided into namespaces. Each namespace (except the main article space) has a prefix that is followed by a colon at the start of page names. Here are some of the namespaces you might encounter, along with an explanation and examples: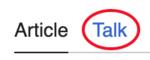 Each page in each of these namespaces, except for Special, also has a corresponding Talk page for discussion. So, for example, you can discuss the starfish article at Talk:starfish, or talk about Wikipedia:Neutral point of view at Wikipedia talk:Neutral point of view. You can switch between the normal page and the talk page by clicking the tabs at the top left.