This page is currently inactive and is retained for historical reference.
Either the page is no longer relevant or consensus on its purpose has become unclear. To revive discussion, seek broader input via a forum such as the village pump.
MakeBot is an extension which allows bureaucrats to grant and revoke bot status from user accounts. It was written by Rob Church for use on Wikimedia wikis, and was taken live on 22nd April 2006. It was replaced with core functionality in Special:UserRights.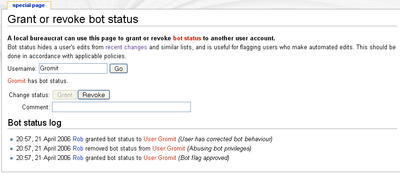 Select User

Enter a username in the field indicated and click Go

Grant Bot Status

Enter a comment and click the Grant button

Revoke Bot Status

Enter a comment and click the Revoke button
Bot flags cannot be placed on accounts that have sysop or bureaucrat flags already set.
A log of all bot status changes is maintained at Special:Log/makebot.
The extension is available under the GNU General Public Licence 2.0 or later, and can be from SVN downloaded from Subversion, or accessed via the web-based viewer.
The software is provided as-is. Updates will be made according to the needs of Wikimedia wikis; or where critical vulnerabilities are discovered.