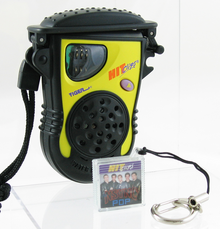 HitClips is a digital audio player created by Tiger Electronics that plays low-fidelity mono one-minute clips of usually teen pop hits from exchangeable cartridges.[1] It first launched in August 2000[2] with 60-second microchip songs featuring Britney Spears, NSYNC, and Sugar Ray. The following year songs by Destiny's Child, Backstreet Boys, Dream, and Pink were additionally released.[3] There is a version for young children called KidClips.[4] Tiger Electronics had licensing agreements for HitClips with popular major record labels including Atlantic Records, Jive Records/Zomba Label Group,[5] and Capitol Records.[6] HitClips was first promoted by McDonald's, Radio Disney, and Lunchables.[7] By June 2002, HitClips players and music disks combined had sold more than 20 million units.[2]
Hilary Duff became the spokesperson for HitClips in 2003. In 2004, she was succeeded by Raven-Symoné when the format was changed into a 2-minute mini circular cartridge. At that point 30 million units had been sold.[8] The product discontinued in 2005.
Song list
[
edit
]
The songs that were on the HitClips cartridge in 2000–2003 before HitClips disc came along.
HitClips 2000–2002
[
edit
]
In June 2002, 80 singles from 30+ artists were available.[2]
HitClips Disc 2003–2004
[
edit
]
See also
[
edit
]
References
[
edit
]
External links
[
edit
]