National Diet Library (NDL)
Country
Japan
Type
National Library, Parliamentary Library
Established
1948
Reference to legal mandate
National Diet Library Law
Location
Tokyo, Kyoto
Coordinates

35°40′42″N

139°44′39″E

 / 

35.67833°N 139.74417°E

Coordinates:

35°40′42″N

139°44′39″E

 / 

35.67833°N 139.74417°E

Branches
27
Collection
Items collected
books, journals, newspapers, electronic archives, manuscripts, official publications, doctoral dissertations, maps, sheet music
Size
41,881,649 items (March 2016)[1]
Criteria for collection
Publications issued in Japan, statutes and parliamentary documents, publications on Japan, reference material, material on science and technology, publications of international organizations and foreign governments, children's literature and related material, Asian works
Legal deposit
legal deposit
Access and use
Access requirements
eighteen years of age or older for the Tokyo Main Library and the Kansai-kan
Population served
members of the Diet (722: fixed number as of Feb. 2009) and the general public
Other information
Budget
JP¥20,163M (FY2008) (US$221M)
Director
Sawako Hanyu (2016)[2]
Staff
908
Website
www.ndl.go.jp/,%20https://www.ndl.go.jp/en/,%20https://www.ndl.go.jp/zh/,%20https://www.ndl.go.jp/ko/
The National Diet Library (国立国会図書館, Kokuritsu Kokkai Toshokan) is the only national library in Japan. It was established in 1948.[3]
The purpose of the library is to assist members of the Diet of Japan (国会, Kokkai). The library is similar in purpose and scope to the U.S. Library of Congress.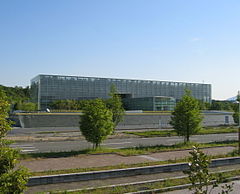 The National Diet Library has two main facilities. One is in Tokyo and the other is in Kyoto. There are also several branch libraries in Japan.


Media related to National Diet Library at Wikimedia Commons