From today's featured article
Paint Drying is a 2016 British experimental protest film that was produced, directed and shot by Charlie Shackleton. He created the film in protest against film censorship in the United Kingdom and the sometimes-prohibitive cost to independent filmmakers that the classification requirement of the British Board of Film Classification (BBFC) imposes. The film consists of 607 minutes (10 hours and 7 minutes) of an unchanging view of white paint drying on a brick wall (similar wall pictured). Shackleton made the film to force the BBFC to watch it in its entirety to give the film an age rating classification. Shackleton initially shot 14 hours' worth of footage of paint drying in 4K resolution and opened a Kickstarter campaign to pay the BBFC's per-minute rate for a film as long as possible. It raised £5,936 from 686 backers, paying for a film lasting 10 hours and 7 minutes. After reviewing the film, the BBFC rated it "U" for "Universal", indicating "no material likely to offend or harm". (Full article...)
Did you know ...
In the news
On this day
May 29: Feast day of Saint Paul VI (Catholicism); Memorial Day in the United States
From today's featured list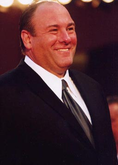 Eighty-six episodes of The Sopranos, an American crime drama television series created by David Chase, aired over six seasons. The series follows Tony Soprano (James Gandolfini – pictured), an Italian-American mobster, as he struggles with various personal and professional obstacles. The Sopranos premiered on January 10, 1999, on HBO and concluded on June 10, 2007. Broadcast syndication followed in the United States and internationally. The first five seasons of the series each consisted of 13 episodes, while the final season consisted of twenty-one episodes aired in two parts. The series was released to widespread critical acclaim and received numerous accolades. It is often credited with ushering in the Second Golden Age of Television and is considered among the most influential series ever. (Full list...)
Recently featured:
Today's featured picture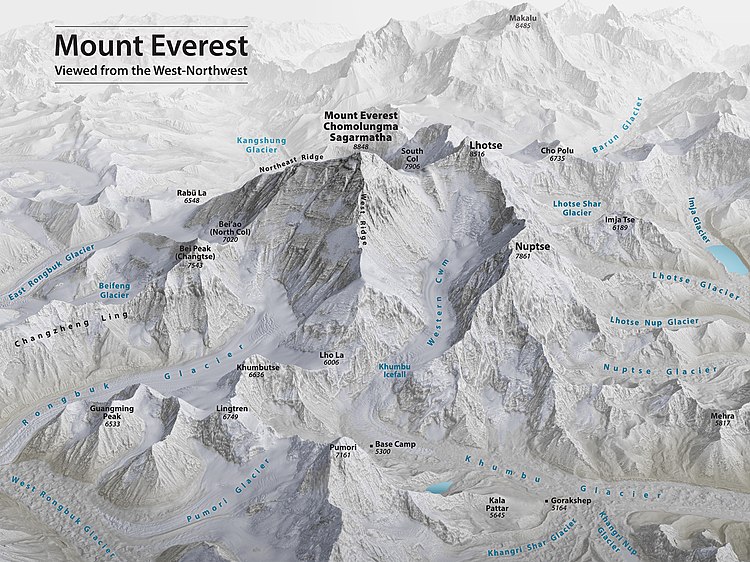 Mount Everest is Earth's highest mountain above sea level, located in the Himalayas along the China–Nepal border. Its summit, at 8,848.86 m (29,031.7 ft) elevation, was first reached on 29 May 1953 by Tenzing Norgay and Edmund Hillary. This map, which uses data from the US National Snow and Ice Data Center, is a 3D rendering of Mount Everest and its surrounding terrain. Features portrayed on the map include the Khumbu Icefall, the South Base Camp (5,300 m), Nuptse (7,861 m) and Lhotse (8,516 m).
Map credit: Tom Patterson
Recently featured:
Other areas of Wikipedia
Wikipedia's sister projects
Wikipedia is written by volunteer editors and hosted by the Wikimedia Foundation, a non-profit organization that also hosts a range of other volunteer projects:
Wikipedia languages