From today's featured article
Did you know ...
From today's featured list
Basshunter, a Swedish singer, record producer and DJ, has recorded more than 100 songs since 2004 for five studio albums and two compilation albums. His first album, The Bassmachine, was released in 2004, and his second studio album, LOL, was released in 2006. This was followed by the singles "Vi sitter i Ventrilo och spelar DotA" and "Vifta med händerna", on which Basshunter collaborated with Patrik & Lillen. In 2008, he released a cover version of "Please Don't Go" by KC and the Sunshine Band and "All I Ever Wanted", followed by his third studio album, Now You're Gone. Basshunter's fourth studio album, Calling Time, was released in 2013. Its tracklisting included four songs that had been released as singles over the preceding three years: "Saturday", "Northern Light", "Dream on the Dancefloor" and "Fest i hela huset", a track that Basshunter had recorded with contestants on the fifth season of the reality television series Big Brother. (Full list...)
Today's featured picture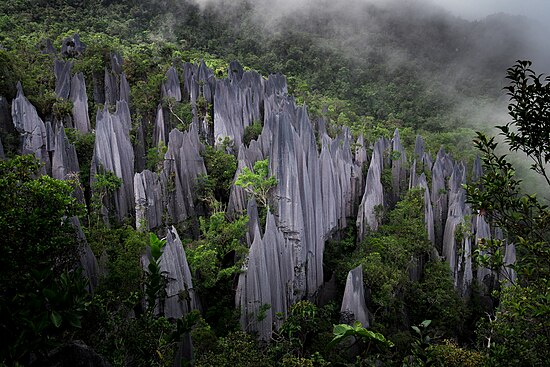 Mount Api is a limestone mountain located in Gunung Mulu National Park in Sarawak, Malaysia. It is part of the same formation as Mount Benarat and Mount Buda. Mount Api is notable for its striking limestone karst formations, commonly known as "the pinnacles". The mountain hosts many caves, with passages linking to the massive Clearwater Cave system. It features a great diversity of pitcher plants, with at least eight different species recorded on the mountain. This 2019 photograph shows the karst pinnacles near the peak of Mount Api.
Photograph credit: Nur Nafis Naim
Recently featured:
Other areas of Wikipedia
Wikipedia's sister projects
Wikipedia is written by volunteer editors and hosted by the Wikimedia Foundation, a non-profit organization that also hosts a range of other volunteer projects:
Wikipedia languages