Polycotylidae is a family of plesiosaurs from the Cretaceous, a sister group to Leptocleididae. Polycotylids first appeared during the Albian stage of the Early Cretaceous, before becoming abundant and widespread during the early Late Cretaceous. Several species survived into the final stage of the Cretaceous, the Maastrichtian.[2]
With their short necks and large elongated heads, they resemble the pliosaurs, but closer phylogenetic studies indicate that they share many common features with the Leptocleididae and Elasmosauridae. They have been found worldwide, with specimens reported from New Zealand, Australia, Japan, Morocco, the US, Canada, Eastern Europe, and South America.[3]
Phylogeny
[
edit
]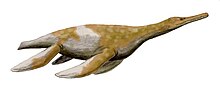 Cladogram after Albright, Gillette and Titus (2007).[4]
Cladogram after Ketchum and Benson (2010).[6]
Below is a cladogram of polycotylid relationships from Ketchum & Benson, 2011.[7]
References
[
edit
]
^ V. Fischer; R. B. J. Benson; P. S. Druckenmiller; H. F. Ketchum; N. Bardet (2018). "The evolutionary history of polycotylid plesiosaurians". Royal Society Open Science. 5 (3): 172177. Bibcode:2018RSOS....572177F. doi:10.1098/rsos.172177. PMC 5882735. PMID 29657811.
^ Fischer, V.; Benson, R. B. J.; Druckenmiller, P. S.; Ketchum, H. F.; Bardet, N. (March 2018). "The evolutionary history of polycotylid plesiosaurians". Royal Society Open Science. 5 (3): 172177. Bibcode:2018RSOS....572177F. doi:10.1098/rsos.172177. ISSN 2054-5703. PMC 5882735. PMID 29657811.
^ Druckenmiller, Patrick S. & Russell, Anthony P. (2009). "Earliest North American Occurrence Of Polycotylidae (Sauropterygia: Plesiosauria) From The Lower Cretaceous (Albian) Clearwater Formation, Alberta, Canada"

(PDF)

. Journal of Paleontology. 83 (6): 361–392. doi:10.1666/09-014.1. S2CID 130695434. Archived from the original

(PDF)

on 2011-07-06.
^ Albright III, L. B., Gillette, D. D., and Titus, A. L., 2007b. Plesiosaurs from the Upper Cretaceous (Cenomanian-Turonian) Tropic Shale of southern Utah, part 2: polycotylidae Archived 2011-09-28 at the Wayback Machine. Journal of Vertebrate Paleontology, v. 27, n. 1, p. 41-58.
^

Schumacher, B. A., 2007, A new polycotylid plesiosaur (Reptilia; Sauropterygia) from the Greenhorn Limestone (Upper Cretaceous; lower upper Cenomanian), Black Hills, South Dakota: In: The Geology and Paleontology of the Late Cretaceous marine deposits of the Dakotas, edited by Martin, J. E., and Parris, D. C., The Geological Society of America, Special Paper 427, p. 133-146.

^ Ketchum, H. F. & Benson, R. B. J. (2010). "Global interrelationships of Plesiosauria (Reptilia, Sauropterygia) and the pivotal role of taxon sampling in determining the outcome of phylogenetic analyses". Biological Reviews. 85 (2): 361–392. doi:10.1111/j.1469-185X.2009.00107.x. PMID 20002391. S2CID 12193439.
^ Hilary F. Ketchum and Roger B. J. Benson (2011). "A new pliosaurid (Sauropterygia, Plesiosauria) from the Oxford Clay Formation (Middle Jurassic, Callovian) of England: evidence for a gracile, longirostrine grade of Early-Middle Jurassic pliosaurids". Special Papers in Palaeontology. 86: 109–129.{{cite journal}}: CS1 maint: uses authors parameter (link)
External links
[
edit
]