The Physics Portal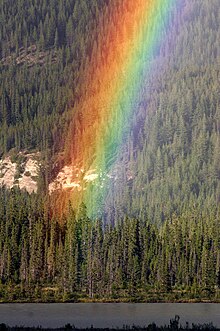 Physics is the natural science that studies matter, its fundamental constituents, its motion and behavior through space and time, and the related entities of energy and force. Physics is one of the most fundamental scientific disciplines, with its main goal being to understand how the universe behaves. A scientist who specializes in the field of physics is called a physicist.
Physics is one of the oldest academic disciplines and, through its inclusion of astronomy, perhaps the oldest. Over much of the past two millennia, physics, chemistry, biology, and certain branches of mathematics were a part of natural philosophy, but during the Scientific Revolution in the 17th century these natural sciences emerged as unique research endeavors in their own right. Physics intersects with many interdisciplinary areas of research, such as biophysics and quantum chemistry, and the boundaries of physics are not rigidly defined. New ideas in physics often explain the fundamental mechanisms studied by other sciences and suggest new avenues of research in these and other academic disciplines such as mathematics and philosophy.
Advances in physics often enable advances in new technologies. For example, advances in the understanding of electromagnetism, solid-state physics, and nuclear physics led directly to the development of new products that have dramatically transformed modern-day society, such as television, computers, domestic appliances, and nuclear weapons; advances in thermodynamics led to the development of industrialization; and advances in mechanics inspired the development of calculus. (Full article...)
This is a Featured article, which represents some of the best content on English Wikipedia.
---
The speed of light in vacuum, commonly denoted c, is a universal physical constant that is exactly equal to 299,792,458 metres per second (approximately 300,000 kilometres per second; 186,000 miles per second; 671 million miles per hour). According to the special theory of relativity, c is the upper limit for the speed at which conventional matter or energy (and thus any signal carrying information) can travel through space.
All forms of
electromagnetic radiation
, including
visible light
, travel at the speed of light. For many practical purposes, light and other electromagnetic waves will appear to propagate instantaneously, but for long distances and very sensitive measurements, their finite speed has noticeable effects.
Starlight
viewed on
Earth
left the
stars
many years ago, allowing humans to study the history of the universe by viewing distant objects. When
communicating
with distant
space probes
, it can take minutes to hours for signals to travel from Earth to the spacecraft and vice versa. In
computing
, the speed of light fixes the ultimate minimum communication
delay
between computers
, to
computer memory
, and within a
CPU
. The speed of light can be used in
time of flight
measurements to measure large distances to extremely high precision. (
Full article...
)
Did you know -

Selected image -
Johannes Kepler (December 27, 1571 – November 15, 1630) was a German mathematician, astronomer and astrologer. A key figure in the 17th century scientific revolution, he is best known for his eponymous laws of planetary motion, codified by later astronomers, based on his works Astronomia nova, Harmonices Mundi, and Epitome of Copernican Astronomy. These works also provided one of the foundations for Isaac Newton's theory of universal gravitation. During his career, Kepler was a mathematics teacher at a seminary school in Graz, Austria. Later he became an assistant to astronomer Tycho Brahe, and eventually the imperial mathematician to Emperor Rudolf II and his two successors Matthias and Ferdinand II. He was also a mathematics teacher in Linz, Austria, and an adviser to General Wallenstein. Additionally, he did fundamental work in the field of optics, invented an improved version of the refracting telescope (the Keplerian Telescope), and mentioned the telescopic discoveries of his contemporary Galileo Galilei.
These are Good articles, which meet a core set of high editorial standards.
---
The following are images from various physics-related articles on Wikipedia.
Fundamentals: Concepts in physics | Constants | Physical quantities | Units of measure | Mass | Length | Time | Space | Energy | Matter | Force | Gravity | Electricity | Magnetism | Waves
Basic physics: Mechanics | Electromagnetism | Statistical mechanics | Thermodynamics | Quantum mechanics | Theory of relativity | Optics | Acoustics
Specific fields: Acoustics | Astrophysics | Atomic physics | Molecular physics | Optical physics | Computational physics | Condensed matter physics | Nuclear physics | Particle physics | Plasma physics
Tools: Detectors | Interferometry | Measurement | Radiometry | Spectroscopy | Transducers
Background: Physicists | History of physics | Philosophy of physics | Physics education | Physics journals | Physics organizations
Other: Physics in fiction | Physics lists | Physics software | Physics stubs
Extended content