Crikey, it's early!
It's 6:24 on Tuesday, 21 March 2023 (PDT). (reload)
---
---
---
---
---
---
---
So ends the first round of the 2023 WikiCup. Everyone with a positive score moved on to Round 2, with 54 contestants qualifying. The top scorers in Round 1 were:
The top sixteen contestants at the end of Round 1 had all scored over 300 points; these included

LunaEatsTuna,

Thebiguglyalien,

Sammi Brie,
Trainsandotherthings,

Lee Vilenski,

Juxlos,

Unexpectedlydian,

SounderBruce,

Kosack,

BennyOnTheLoose and

PCN02WPS. It was a high-scoring start to the competition.
These contestants, like all the others, now have to start again from scratch. The first round finished on February 26. Remember that any content promoted after that date but before the start of Round 2 can be claimed in Round 2. Some contestants made claims before the new submissions pages were set up, and they will need to resubmit them. Invitations for collaborative writing efforts or any other discussion of potentially interesting work is always welcome on the WikiCup talk page. Remember, if two or more WikiCup competitors have done significant work on an article, all can claim points. If you are concerned that your nomination—whether it is at good article candidates, a featured process, or anywhere else—will not receive the necessary reviews, please list it on Wikipedia:WikiCup/Reviews Needed.
If you want to help out with the WikiCup, please do your bit to keep down the review backlogs! Questions are welcome on Wikipedia talk:WikiCup, and the judges are reachable on their talk pages or by email. Good luck! If you wish to start or stop receiving this newsletter, please feel free to add or remove yourself from Wikipedia:WikiCup/Newsletter/Send. Sturmvogel 66 and Cwmhiraeth. MediaWiki message delivery (talk) 19:36, 2 March 2023 (UTC)Reply[reply]
Guild of Copy Editors March 2023 Newsletter

---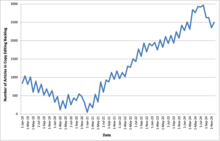 Hello and welcome to the March 2023 newsletter, a quarterly digest of Guild activities since December and our Annual Report for 2022. Don't forget you can unsubscribe at any time; see below. We extend a warm welcome to all of our new members, including those who have signed up for our current March Backlog Elimination Drive. We wish you all happy copy-editing.
Election results: In our December 2022 coordinator election, Reidgreg and Tenryuu stepped down as coordinators; we thank them for their service. Incumbents Baffle gab1978, Dhtwiki, Miniapolis and Zippybonzo were returned as coordinators until 1 July. For the second time, no lead coordinator was chosen. Nominations for our mid-year Election of Coordinators open on 1 June (UTC).
Drive: 21 editors signed up for our January Backlog Elimination Drive, 14 of whom claimed at least one copy-edit. Between them, they copy-edited 170 articles totaling 389,737 words. Barnstars awarded are here.
Blitz: Our February Copy Editing Blitz focused on October and November 2022 requests, and the March and April 2022 backlogs. Of the 14 editors who signed up, nine claimed at least one copy-edit; and between them, they copy-edited 39,150 words in 22 articles. Barnstars awarded are here.
Drive: Sign up now for our month-long March Backlog Elimination Drive. Barnstars awarded will be posted here after the drive closes.
Progress report: As of 12:08, 19 March 2023 (UTC), GOCE copyeditors have processed 73 requests since 1 January 2023, all but five of them from 2022, and the backlog stands at 1,872 articles.
Thank you all again for your participation; we wouldn't be able to achieve what we have without you! Cheers from your GOCE coordinators Baffle gab1978, Dhtwiki, Miniapolis and Zippybonzo.
To discontinue receiving GOCE newsletters, please remove your name from
our mailing list
.