Wikipedia
:
Find your source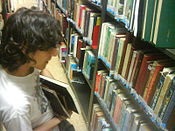 Find your source
When researching with Wikipedia, you should read the cited sources – but how can you find them?
Academic Journal articles

Books

Newspaper articles

If possible, search a quote from the article to see if it has been republished elsewhere.
Search thousands of periodicals on the Internet Archive.
Install the Bypass Paywalls Clean browser extension (Firefox, Chrome) to bypass paywalls on a number of news websites.
See if either your local library or TWL provides access to the newspaper or to a database that indexes it in full text.
Check the list of online newspaper archives (some of which are free to access) or the list of free English newspaper sources. There are also other digitized-newspaper archives, particularly for older articles, that may be available.
Use WorldCat to see if your local library has a physical (print or microfilm) version of the newspaper issue containing the article.
Request the article or the newspaper through your library's interlibrary loan service, if available.
See if an archived version of the article is available via a search feature on the newspaper's website.
Get help on-wiki