Asia (/ˈeɪʒə/ (

listen), also UK: /ˈeɪʃə/) is a continent which is part of Eurasia. It is the largest continent in the world by both land area and population and shares the landmass of Afro-Eurasia with Europe and Africa. Asia covers an area of 44,579,000 square kilometres (17,212,000 sq mi), about 30% of Earth's total land area and 8.7% of Earth's total surface area. The continent, which has long been home to the majority of the human population, was the site of many of the first civilizations. Its 4.7 billion people constitute roughly 60% of the world's population, having more people than all other continents combined.
In general terms, Asia is bounded on the east by the Pacific Ocean, on the south by the Indian Ocean, and on the north by the Arctic Ocean. The border of Asia with Europe is a historical and cultural construct, as there is no clear physical and geographical separation between them. It is somewhat arbitrary and has moved since its first conception in classical antiquity. The division of Eurasia into two continents reflects East–West cultural, linguistic, and ethnic differences, some of which vary on a spectrum rather than with a sharp dividing line. A commonly accepted division places Asia to the east of the Suez Canal separating it from Africa; and to the east of the Turkish Straits, the Ural Mountains and Ural River, and to the south of the Caucasus Mountains and the Caspian and Black seas, separating it from Europe.
China and India alternated in being the largest economies in the world from 1 to 1,800 CE. China was a major economic power and attracted many to the east, and for many the legendary wealth and prosperity of the ancient culture of India personified Asia, attracting European commerce, exploration and colonialism. The accidental discovery of a trans-Atlantic route from Europe to America by Columbus while in search for a route to India demonstrates this deep fascination. The Silk Road became the main east–west trading route in the Asian hinterlands while the Straits of Malacca stood as a major sea route. Asia has exhibited economic dynamism (particularly East Asia) as well as robust population growth during the 20th century, but overall population growth has since fallen. Asia was the birthplace of most of the world's mainstream religions including Hinduism, Zoroastrianism, Judaism, Jainism, Buddhism, Confucianism, Taoism, Christianity, Islam, Sikhism, as well as many other religions. (Full article...)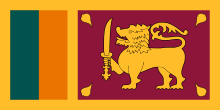 Sri Lanka (UK: /sri ˈlæŋkə, ʃriː -/, US: /- ˈlɑːŋkə/ (

listen); Sinhala: ශ්‍රී ලංකා, romanized: Śrī Laṅkā (IPA: [ʃriː laŋkaː]); Tamil: இலங்கை, romanized: Ilaṅkai (IPA: [ilaŋɡaj])), formerly known as Ceylon and officially the Democratic Socialist Republic of Sri Lanka, is an island country in South Asia. It lies in the Indian Ocean, southwest of the Bay of Bengal, and southeast of the Arabian Sea; it is separated from the Indian subcontinent by the Gulf of Mannar and the Palk Strait. Sri Lanka shares a maritime border with India and Maldives. Sri Jayawardenepura Kotte is its legislative capital, and Colombo is its largest city and financial centre.
Sri Lanka has a population of around 22 million (2020) and is a
multinational state
, home to diverse cultures, languages, and ethnicities. The
Sinhalese
are the majority of the nation's population. The
Tamils
, who are a large minority group, have also played an influential role in the island's history. Other long established groups include the
Moors
,
the Burghers
,
the Malays
,
the Chinese
, and the indigenous
Vedda
. (
Full article...
)
List of selected countries
Albertus Soegijapranata, SJ (Indonesian: [alˈbərtʊs suˈɡijapraˈnata]; Perfected Spelling: Albertus Sugiyapranata; 25 November 1896 – 22 July 1963), better known by his birth name Soegija, was a Jesuit priest who became the Apostolic Vicar of Semarang and later its archbishop. He was the first native Indonesian bishop and known for his pro-nationalistic stance, often expressed as "100% Catholic 100% Indonesian".
Soegija was born in
Surakarta
,
Dutch East Indies
, to a Muslim
courtier
and his wife. The family moved to nearby
Yogyakarta
when Soegija was still young; there he began his education. Known as a bright child, around 1909 he was asked by Father
Frans van Lith
to enter Xaverius College, a
Jesuit
school in
Muntilan
, where Soegija slowly became interested in
Catholicism
. He was baptised on 24 December 1910. After graduating from Xaverius in 1915 and spending a year as a teacher there, Soegija spent two years at the on-site
seminary
before going to the Netherlands in 1919. He began his two-year
novitiate
with the Society of Jesus in September 1920 in
Grave
, and finished his juniorate there in 1923. After three years studying philosophy at Berchmann College in
Oudenbosch
, he was sent back to Muntilan as a teacher for a further two years. In 1928, he returned to the Netherlands to study theology at
Maastricht
, where he was
ordained
by
Bishop of Roermond
Laurentius Schrijnen on 15 August 1931; Soegija then added the word "pranata" to the back of his name. He was then sent back to the Indies to preach and became a parochial vicar at the parish in Kidul Loji, Yogyakarta, and in 1934 he was given his own parish in
Bintaran
. There he focused on creating a sense of Catholicism within the native community, emphasising the need for strong bonds between Catholic families. Soegijapranata was
consecrated
as the vicar apostolic of the newly established
Apostolic Vicariate of Semarang
in 1940. (
Full article...
)
The following are images from various Asia-related articles on Wikipedia.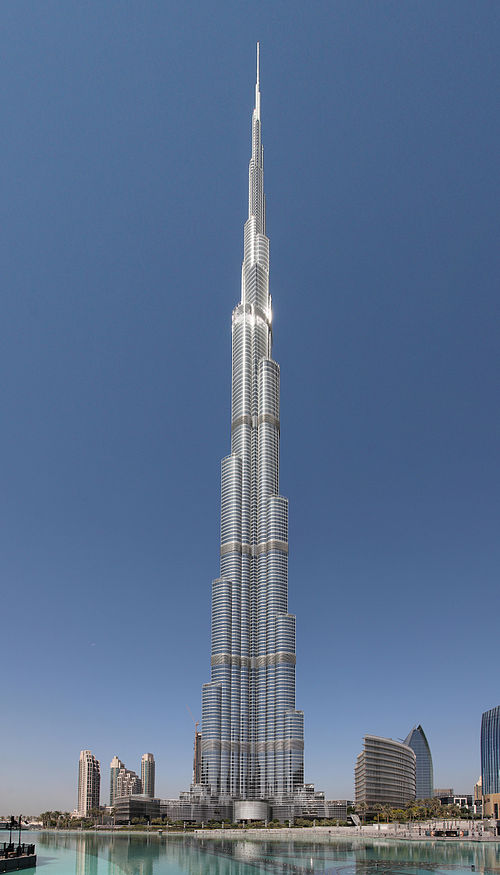 The
Burj Khalifa
(
/

ˈ

b

ɜːr

dʒ

k

ə

ˈ

l

iː

f

ə

/
;
Arabic
:
برج خليفة
, Arabic pronunciation: 
[bʊrd͡ʒ xaˈliːfa]
,
Khalifa Tower
), known as the
Burj Dubai
prior to its inauguration in 2010, is a skyscraper in
Dubai
,
United Arab Emirates
. It is known for being the world's tallest building. With a total height of 829.8 m (2,722 ft, or just over half a mile) and a roof height (excluding antenna, but including a 242.6 m spire) of 828 m (2,717 ft), the Burj Khalifa has been the
tallest structure and building
in the world since its
topping out
in 2009, supplanting
Taipei 101
, the previous holder of that status. (
Full article...
)
Updated: 1:33, 20 March 2022
Two of four Japanese gang leaders based in the Philippines are deported on suspicion of ordering around 2,300 robberies and phone fraud activities with a total value of ¥3.5 billion (US$26.4 million) in Japan. (AFP via The Manila Times)
The Free Papua Movement led by Egianus Kogoya burn and take 15 passengers of Susi Air plane on Paro Airport, Nduga Regency in Highland Papua, Indonesia. (SCNOW)
Police use tear gas to disperse protesters after the governor of Malaita province, Daniel Suidani, is removed in a no-confidence vote. Suidani was one of the strongest critics of the government's approach to China. (The Guardian)
Five Izz ad-Din al-Qassam Brigades members are killed, three others are injured, and eight members are arrested during a raid by Israeli soldiers and subsequent gunbattle at a refugee camp near Jericho, in the West Bank. (BBC News)
At least 5,434 people are killed in Turkey and more than 1,832 others are killed in Syria as a magnitude 7.8 earthquake strikes Gaziantep Province, Turkey. (AFP via RFI)(Reuters)
A second earthquake of magnitude 7.5 occurs in Kahramanmaraş, Turkey, nine hours after the first earthquake. (Bloomberg)
---
Arab world


Indonesia


Iran


Israel


Japan

North Korea

South Korea


Malaysia

Myanmar


Philippines

Russia


Singapore


Afghanistan


Bangladesh


India


Nepal


Pakistan


Sri Lanka


Tajikistan


Turkey


Thailand

Uzbekistan


Vietnam

---
This image by the firm of Maison Bonfils depicts the city of Beirut, Lebanon, sometime in the last third of the 19th century. Maison Bonfils was the extraordinarily prolific venture of the French photographer Félix Bonfils (1831–85), his wife Marie-Lydie Cabanis Bonfils (1837–1918), and their son, Adrien Bonfils (1861–1928). The Bonfils moved to Beirut in 1867 and, over the next five decades, their firm produced one of the world's most important bodies of photographic work about the Middle East. Maison Bonfils was known for landscape photographs, panoramas, biblical scenes, and posed "ethnographic" portraits.

Select [►] to view subcategories