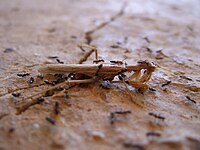 Ant (formicidae)
social ethology
A society is a group of individuals involved in persistent social interaction, or a large social group sharing the same spatial or social territory, typically subject to the same political authority and dominant cultural expectations. Societies are characterized by patterns of relationships (social relations) between individuals who share a distinctive culture and institutions; a given society may be described as the sum total of such relationships among its constituent of members. In the social sciences, a larger society often exhibits stratification or dominance patterns in subgroups.
Societies construct patterns of behavior by deeming certain actions or concepts as acceptable or unacceptable. These patterns of behavior within a given society are known as societal norms. Societies, and their norms, undergo gradual and perpetual changes.
So far as it is collaborative, a society can enable its members to benefit in ways that would otherwise be difficult on an individual basis; both individual and social (common) benefits can thus be distinguished, or in many cases found to overlap. A society can also consist of like-minded people governed by their own norms and values within a dominant, larger society. This is sometimes referred to as a subculture, a term used extensively within criminology, and also applied to distinctive subsections of a larger society.
More broadly, and especially within structuralist thought, a society may be illustrated as an economic, social, industrial or cultural infrastructure, made up of, yet distinct from, a varied collection of individuals. In this regard society can mean the objective relationships people have with the material world and with other people, rather than "other people" beyond the individual and their familiar social environment. (Full article...)
Sociology
is the study of
society
. It is a
social science
which uses various methods of empirical investigation and critical analysis to develop a body of knowledge about human social activity. For many sociologists the goal is to conduct research which may be applied directly to
social policy
and welfare, while others focus primarily on refining the theoretical understanding of social processes. Subject matter ranges from the
micro
level of individual
agency
and interaction to the
macro
level of systems and the
social structure
. The traditional focuses of sociology have included
social stratification
,
social class
,
culture
,
social mobility
,
religion
,
secularization
,
law
, and
deviance
. As all spheres of human activity are affected by the interplay between
social structure and individual agency
, sociology has gradually expanded its focus to further subjects, such as
health
,
medical
,
military
and
penal
institutions
,
the Internet
, and the role of social activity in the development of
scientific knowledge
. The range of social scientific methods has also expanded.
Social researchers
draw upon a variety of
qualitative
and
quantitative
techniques. The
linguistic
and
cultural turns
of the mid-twentieth century led to increasingly
interpretative
,
hermeneutic
, and
philosophic
approaches to the analysis of society. Conversely, recent decades have seen the rise of new
analytically
,
mathematically
and
computationally
rigorous techniques, such as
agent-based modelling
and
social network analysis
. Sociology should not be confused with various general
social studies
courses which bear little relation to sociological theory or social science research methodology.
Credit: Artist: Unknown; Restoration:
Adam Cuerden
A scene from Oscar Wilde's 1895 play An Ideal Husband, originally published in a 1901 collected edition of Wilde's works. The comedy, which opened January 3, 1896, at the Haymarket Theatre in London, revolves around blackmail and political corruption, and touches on the themes of public and private honour. It has been adapted into television, radio/audio, and three films. The published version differs slightly from the performed play, for Wilde added many passages and cut others. Prominent additions included written stage directions and character descriptions. Wilde was a leader in the effort to make plays accessible to the reading public.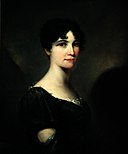 Harriet Arbuthnot
was an early 19th-century
English
diarist
, social observer and political hostess on behalf of the
Tory
party. During the 1820s she was the "closest woman friend" of the hero of
Waterloo
and
British
Prime Minister
, the
1st Duke of Wellington
. She maintained a long correspondence and association with the Duke, all of which she recorded in her diaries, which are consequently extensively used in all authoritative biographies of the Duke of Wellington. Born into the periphery of the British aristocracy and married to a politician and member of
the establishment
, she was perfectly placed to meet all the key figures of the
Regency
and late
Napoleonic
eras. Recording meetings and conversations often verbatim, she has today become the "Mrs Arbuthnot" quoted in many biographies and histories of the era. Her observations and memories of life within the British establishment are not confined to individuals but document politics, great events and daily life with an equal attention to detail, providing historians with a clear picture of the events described. Her diaries were themselves finally published in 1950 as
The Journal of Mrs Arbuthnot
. (
Full article...
)
The Lost Chord
, recorded by
George Gouraud
. It was played at the
August 14
, 1888, press conference that introduced the phonograph to London.
Featured articles
Featured lists
Good articles
Featured pictures
Related projects