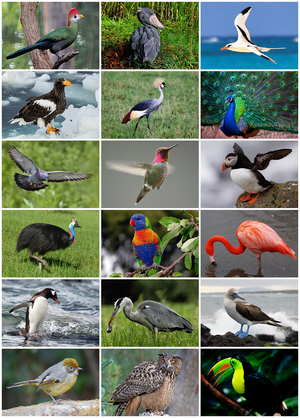 Birds are a group of warm-blooded vertebrates constituting the class Aves (/ˈeɪviːz/), characterised by feathers, toothless beaked jaws, the laying of hard-shelled eggs, a high metabolic rate, a four-chambered heart, and a strong yet lightweight skeleton. Birds live worldwide and range in size from the 5.5 cm (2.2 in) bee hummingbird to the 2.8 m (9 ft 2 in) common ostrich. There are about ten thousand living species, more than half of which are passerine, or "perching" birds. Birds have wings whose development varies according to species; the only known groups without wings are the extinct moa and elephant birds. Wings, which are modified forelimbs, gave birds the ability to fly, although further evolution has led to the loss of flight in some birds, including ratites, penguins, and diverse endemic island species. The digestive and respiratory systems of birds are also uniquely adapted for flight. Some bird species of aquatic environments, particularly seabirds and some waterbirds, have further evolved for swimming.
Birds are feathered theropod dinosaurs and constitute the only known living dinosaurs. Likewise, birds are considered reptiles in the modern cladistic sense of the term, and their closest living relatives are the crocodilians. Birds are descendants of the primitive avialans (whose members include Archaeopteryx) which first appeared about 160 million years ago (mya) in China. According to DNA evidence, modern birds (Neornithes) evolved in the Middle to Late Cretaceous, and diversified dramatically around the time of the Cretaceous–Paleogene extinction event 66 mya, which killed off the pterosaurs and all non-avian dinosaurs.
Many social species pass on knowledge across generations, which is considered a form of culture. Birds are social, communicating with visual signals, calls, and songs, and participating in such behaviours as cooperative breeding and hunting, flocking, and mobbing of predators. The vast majority of bird species are socially (but not necessarily sexually) monogamous, usually for one breeding season at a time, sometimes for years, and rarely for life. Other species have breeding systems that are polygynous (one male with many females) or, rarely, polyandrous (one female with many males). Birds produce offspring by laying eggs which are fertilised through sexual reproduction. They are usually laid in a nest and incubated by the parents. Most birds have an extended period of parental care after hatching.
Many species of birds are economically important as food for human consumption and raw material in manufacturing, with domesticated and undomesticated birds being important sources of eggs, meat, and feathers. Songbirds, parrots, and other species are popular as pets. Guano (bird excrement) is harvested for use as a fertiliser. Birds figure throughout human culture. About 120 to 130 species have become extinct due to human activity since the 17th century, and hundreds more before then. Human activity threatens about 1,200 bird species with extinction, though efforts are underway to protect them. Recreational birdwatching is an important part of the ecotourism industry. (Full article...)
Selected general bird topic
A bird louse is any chewing louse (small, biting insects) of order Phthiraptera which parasitizes warm-blooded animals, especially birds. Bird lice may feed on feathers, skin, or blood. They have no wings, and their biting mouth parts distinguish them from true lice, which suck blood.
Almost all domestic birds are hosts for at least one species of bird louse. Chickens and other poultry are attacked by many kinds of bird lice. Bird lice usually do not cause much harm to a bird unless it is unusually infested as in the case of birds with damaged bills which cannot preen themselves properly. A blood-consuming louse that infests Galápagos Hawks is
more numerous on hawks without territories
, possibly because those individuals spend more time looking for food and less time preening than hawks with territories. (
Full article...
)
The
jacanas
(sometimes referred to as
Jesus birds
or
lily trotters
) are a group of tropical
waders
in the
family
Jacanidae
. They are found in the tropical regions around the world. They are noted for their elongated toes and toenails that allow them to spread out their weight while foraging on floating or semi-emergent aquatic vegetation. They are also among the rare groups of birds in which females are larger, and several species maintain
harems of males
in the breeding season with males solely responsible for incubating eggs and taking care of the chicks. (
Full article...
)
List of selected taxon articles
| | | |
| --- | --- | --- |
| " | If it looks like a duck, and quacks like a duck, we have at least to consider the possibility that we have a small aquatic bird of the family Anatidae on our hands. | " |
Free online resources:
There is also Birds of North America, Cornell University's massive project collecting information on every breeding bird in the ABA area. It is available for US$40 a year.
For more sources, including printed sources, see WikiProject Birds.
A male

Splendid Fairywren

(

Malurus splendens

), a

passerine

bird found throughout much of Australia. This individual is engaged in the 'face fan'

courtship display

, in which he flares his blue ear tufts by erecting the feathers. The species exhibits a high degree of

sexual dimorphism

: males in breeding

plumage

are brightly coloured, whereas non-breeding males, females and juveniles are predominantly grey-brown; this gave the early impression that males were

polygamous

as all dull-coloured birds were taken for females.

The

Embden Goose

is a

breed

of

domestic goose

, named for the town of

Emden

in

Lower Saxony

,

Germany

, from where it was once thought they originated. Embdens are pure white with a light orange, short,

bill

, and orange feet and legs. They are fast-growing birds and females will reach about 9 kg (20 lb), with males growing up to 14 kg (31 lb).

The

brown-eared bulbul

(

Hypsipetes amaurotis

) is a medium-sized

bulbul

native to eastern Asia. Reaching a length of about 28 cm (11 in), it is grayish-brown, with brown cheeks (the "brown ears" of the common name), a small spiky crest and a long tail. A bird of the forest canopy, it is also found in plantations, parks and gardens. During the summer, the bird feeds primarily on insects, but in the winter the diet consists mainly of fruits and seeds. In addition, it feeds on nectar from

Camellia

flowers, becoming dusted with pollen in the process. This brown-eared bulbul was photographed in

Tennōji Park

in

Osaka

, Japan.

Photograph credit: Claudney Neves

The

cliff flycatcher

(

Hirundinea ferruginea

) is a species of bird in the family Tyrannidae, the

tyrant flycatchers

. Native to South America, it is found among mountain crags, cliffs and gorges. It is also found, particularly in the south of its range, around buildings in cities, where window sills and facades provide a form of artificial cliff. About 18.5 cm (7.3 in) in length, its

rufous

colouring and behaviour are distinctive. It has a wide beak and long pointed wings, resembling those of a swallow. The overparts are dusky brown, with a distinctive rufous rump and tail base. The tips of the wing feathers are dark, but the remaining parts are cinnamon-rufous, and are exposed in flight. The underparts are pale cinnamon-rufous, with some grey speckling on the throat.

This picture shows a cliff flycatcher photographed in the municipality of

Pindamonhangaba

, in the Brazilian state of

São Paulo

.

The

lesser whistling duck

(

Dendrocygna javanica

) is a species of

whistling duck

that breeds in the

Indian Subcontinent

and

Southeast Asia

. They are nocturnal feeders and during the day may be found in flocks around lakes and wet paddy fields. They can perch on trees and sometimes build their nest in the hollow of a tree. This brown and long-necked duck has broad wings that are visible in flight and produces a loud two-note wheezy call.

The

common blackbird

(

Turdus merula

) is a species of

true thrush

, in the family

Turdidae

. It breeds in Europe, Asiatic Russia, and North Africa, and has a number of

subspecies

across its wide range; a few of the Asian subspecies are sometimes considered to be full species. Depending on latitude, the common blackbird may be resident, partially

migratory

, or fully migratory. This female northwestern African blackbird (

T. m. mauritanicus

) was photographed in the

Souss-Massa National Park

, Morocco. This small, dark subspecies breeds in central and northern Morocco, coastal Algeria and northern Tunisia.

A

yellow-billed shrike

(

Corvinella corvina

) with its prey. The yellow-billed shrike is a common resident breeding bird in tropical Africa, from

Senegal

east to

Uganda

, and locally in westernmost

Kenya

. It frequents forest and other habitats with trees. Although it generally feeds on insects, this shrike may hunt larger prey as well.

The

common kingfisher

(

Alcedo atthis

) is a small

kingfisher

with seven subspecies recognized within its wide distribution across

Eurasia

and

North Africa

. It is resident in much of its range, but

migrates

from areas where rivers freeze in winter. This

sparrow-sized

bird feeds mainly on fish, caught by diving, and has special visual adaptions to enable it to see prey under water. The glossy white eggs are laid in a nest at the end of a burrow in a riverbank.

Male (top) and female

Freckled Ducks

(

Stictonetta naevosa

). Native to southern Australia, the ducks are protected by law. They are easily identified by their large heads with a peaked crown.

The

Great Blue Heron

is a wading bird in the heron family, common over most of North and Central America as well as the

West Indies

and the

Galápagos Islands

. Great blue herons can be found in a range of habitats, in fresh and saltwater, but always near bodies of water. They feed by using their long legs to wade into the water and then catch fish or frogs with their long bill.
Selected bird anatomy topic
A comb is a fleshy growth or crest on the top of the head of some gallinaceous birds, such as domestic chickens. The alternative name cockscomb (with several spelling variations) reflects the fact that combs are generally larger on cock birds than on hens. The comb is one of several fleshy protuberances on the heads of chickens, the others being the wattles and earlobes, which collectively are called caruncles. In turkeys, the caruncles are the fleshy nodules on the head and throat.
Chicken combs are most commonly red, but may also be black or dark purple in breeds such as the
Silkie
or the
Sebright
. In other species the color may vary from light grey to deep blue or red. (
Full article...
)

The
arctic tern
(
Sterna paradisaea
) is a
seabird
of the
tern
family
Sternidae
. This
bird
has a
circumpolar distribution
, breeding colonially in
Arctic
and
sub-Arctic
regions of
Europe
,
Asia
, and
North America
(as far south as
Brittany
and
Massachusetts
). The
species
is strongly
migratory
, seeing two
summers
each year as it migrates from its northern breeding grounds to the oceans around
Antarctica
and back each year. This is the longest regular migration by any known animal. Arctic terns are medium-sized birds. They are mainly grey and white plumaged, with a red beak (as long as the head, straight, with pronounced
gonys
) and feet, white forehead, a black nape and crown (streaked white), and white cheeks. The arctic tern is
K-selected
, caring for and aggressively defending a small number of young. Parents feed them fish for a considerable time, and help them fly south to winter. Arctic terns are long-lived birds, with many reaching twenty years of age. They eat mainly fish and small marine
invertebrates
. The species has an estimated one million individuals. Exploitation in the past has reduced this bird's numbers in the southern reaches of its range.
Create requested articles (WikiProject Birds – Article requests):
Do these tasks:
| | |
| --- | --- |
| | Here are some tasks awaiting attention: |
More outstanding tasks at the project's cleanup listing, Category:Birds articles needing attention, and Wikipedia:WikiProject Birds/Todo.
Class Aves, divided into superorders, orders, suborders (where indicated), and families.